New Outpost to be Established on Deir Istiya town lands/ Salfit Governorate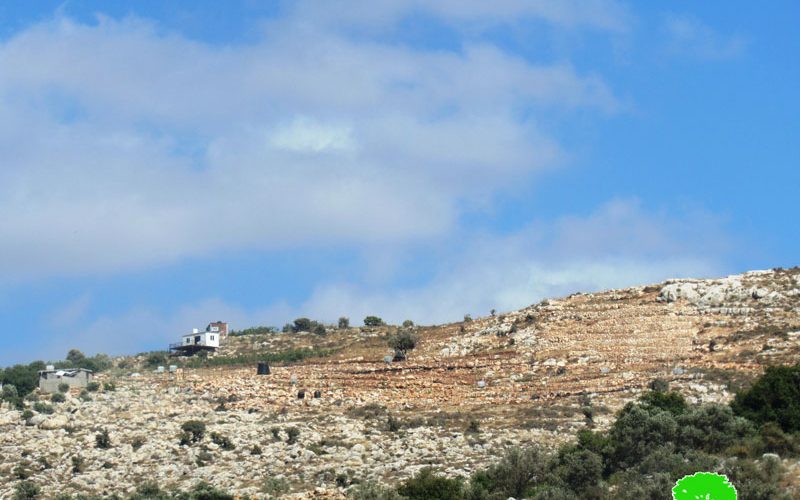 Violation: Establishing a new outpost.
Location: Khirbet Shehadeh- Deir Istiya town / Salfit Governorate.
Date: May 12th 2021.
Perpetrators: A group of colonists.
Victims: Number of the town's lands.
Description:
Wednesday, May 12th 2021, a group of colonists built two colonial units and a sheep barn in Khirbet Shehadeh in natural block (27) of Deir Istiya lands, where the occupation seized three dunums of postures to establish the illegal outpost.
In reality, the outpost is located about 4 km to the west of Deir Istiya lands, on the rubble of a significant historical site known of its fertile lands, the location includes Canaanite and Roman remains, many apparently lived through practicing agriculture.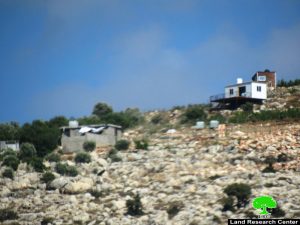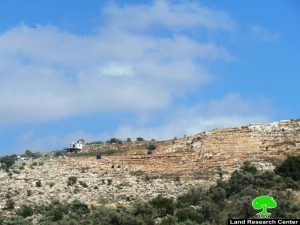 Photos 1+2: The Outpost on Khirbet Shehadeh lands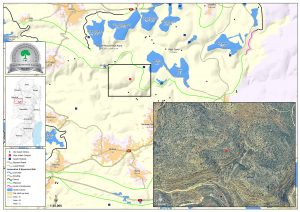 The targeted lands belong to citizens from Abu Nasser and As-Salman families from Deir Istiya town, and they have legal papers to prove their property, while the occupation claims that those lands belong to the Israeli Government.
One of the affected farmers Nathmi As-Salman told LRC the following:
"About four years ago, and since the establishment of "Havat Yaer" colony on Deir Istiya and Qarawat Bani Hussan towns, the occupation is imposing restrictions on agricultural practices around the illegal colony, most of these lands are olive groves. The Occupation also completely closed off the agricultural road that leads to Khirbet Shehadeh area (two kilometers away from the colony). In the past, the Khirbet's lands were exploited in the production of grain and wheat."
As-Salman asserted:
"While Palestinian farmers find it very difficult to access farmlands in Khirbet Shehadeh, colonists are taking the chance to seize more lands and establish random outposts in such a systematic and destructive way, noting that the Khirbet has a total area of 420 dunums."
Deir Istiya municipality head Sa'id Zidan asserted:
"The location of the new outpost is very dangerous, Khirbet Shahdeh is located between Havat Yaer , Yakir, and Matan Colony illegally built on Bidya , annexing them will form a large colonial cluster and devours about 4000 dunums of Qalqilya and Salfit lands, in addition to isolating farmlands between colonies and outposts."
This type of illegal outposts (farm like) is increasing and spreading like cancer cells in Palestinian Suburbs. Colonists of such outposts practice herding and cattle breeding and they are members of Israeli colonial institutions that encourage colonial expansion, their aim is to take over as much as is it possible of Palestinian agricultural lands, and Judaize the area.