Halt of Work Notice Targets an Agricultural Project in Beit Ar-Rush Al-Fawqa / South Hebron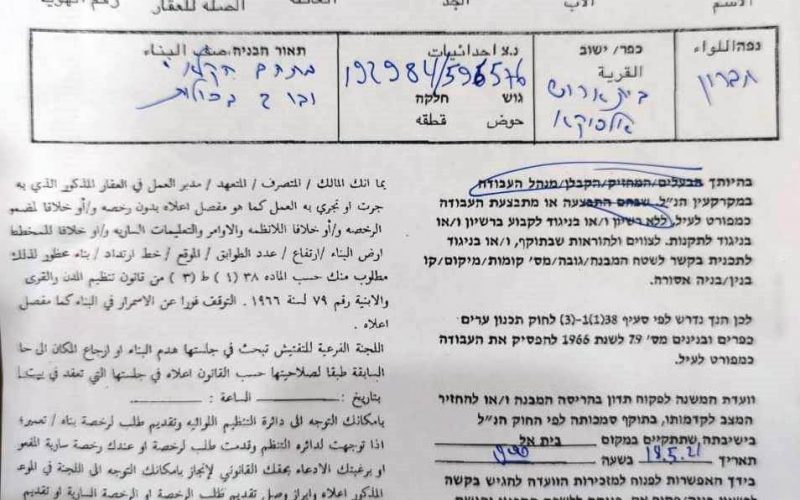 Violation: Halt of work notice.
Date: May 4th 2021.
Location: Beit Ar-Rush Al-Fawqa / Hebron Governorate.
Perpetrator: The so-called Israeli Civil Administration.
Victims: Citizen 'Issa Al-Herbiyat.
Description:
May 4th 2021, the Israeli Occupation Authorities issued halt of work notice for an Agricultural project that belongs to 'Issa Al-Hribat in Beit Ar-Rish Al-Fawqa west Dura, Hebron Governorate, on the pretext of building without a license.
Affected citizen (67) said that a white vehicle belongs to the Building and Organization Department at the Civil Administration raided the area, and got to a plot in "Tour Shinan" west the village, the Civil Administration officer asked the owner of the plot about his name, wrote it on the notice, and hanged it on a metal container, then withdrew.
As it is mentioned in the notice number (31361) the occupation authorities ordered the immediate stoppage of works, and set May 18th 2021 as the date of the subcommittee session in Beit El military court to Decide the fate of the structure.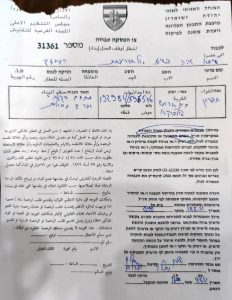 Notice number 31361 which targets citizen Hribat's project
Citizen Al-Hribat was rehabilitating a plot with a total area of 18 dunums, through building retaining walls and planting trees and plants. In addition to setting up two metal containers to keep agricultural tools, each container has a total area of 9 m2.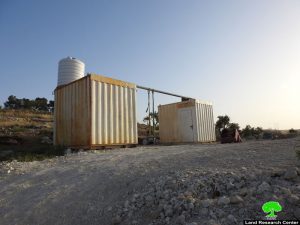 Photo 1: metal containers in a plot belong to citizen Al-Hribat
Beit al-Rosh al-Fawqa:
The village of Beit al-Roush al-Fawqa lies at the west of the town of Dura, south of Hebron. It has a population of about 1,500, most of whom work in the agriculture sector, government sector and in different jobs within the borders of1967. The annexation and expansion wall passes through the western part of the village.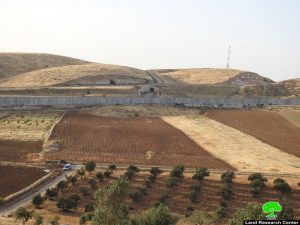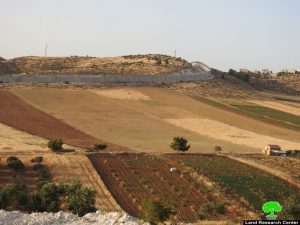 Photos 2+3: a segment of the apartheid wall in Beit Ar-Rush Al-Fawqa