Colonists set up a new outpost on Ad-Dhaheriya lands / South Hebron
Violation: Setting up a new outpost.
Date: May 2021.
Location: Khallet Aj-Jamal – Adh-Dhaheriya / Hebron Governorate.
Perpetrators: Israeli illegal colonists.
Victims: People of Adh-Dhaheriya.
Description:
Illegal Israeli Colonists imposed their control over a plot in Adh-Dhaheriya town south Hebron governorate, ravaged it and sat up a new outpost.
Noteworthy, at the beginning of 2021, a colonist from Eshtemoa colony brough an excavator and started opening a bypass road (east).
The ravages took place in Khallet Aj-Jamal near Adh-Dhaheriya , a (500 m) road was opened , but owners of the lands filed objections , and called the Israeli police , which halted work in  the plot for a while.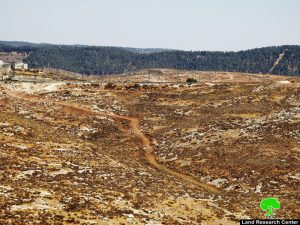 Photo 1: The new road at Ad-Dhaheriya
However , At May 2021 , Colonists came back and opened another road (100 m ) that leads to a nearby hell that  he leveled and prepared for construction, then he brought a  caravan and started living at the truck, and a few days later he brought a herd to the location.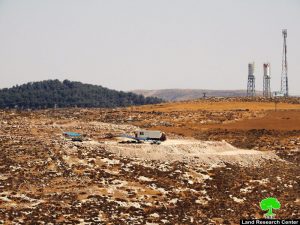 Photos 2-4: The new outpost on Ad-Dhaheriya lands
Prepared by
 The Land Research Center
LRC