Colonists Set Fire to Olive Trees at Ar-Rihiya village south Hebron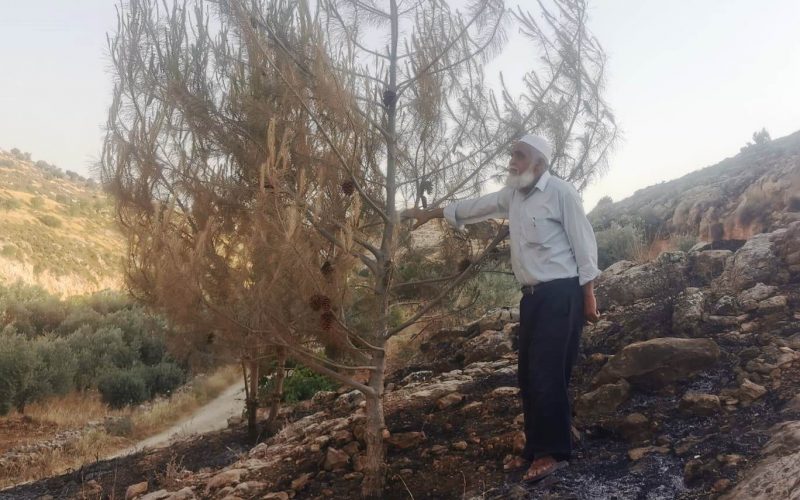 Violation: Setting fire to olive trees and attacking farmlands.
Date: May 25th 2021.
Location: Khallet Al-Quds – Ar-Rihiya / Hebron Governorate.
Perpetrators: "Beit Hagai" Colonists.
Victims: Al-Halaq and At-Tubassi families.
Description:
Tuesday, May 25th 2021, Beit Hagai colonists attacked a plot that belongs to Mohammed Abu Halawa in Ar-Rihiya village south Hebron.
Abu Halawa said that a group of colonists raided his plot in Khallet Al-Quds northeast the village, and uprooted 28 olive saplings aging five years old, they also uprooted vegetables saplings from a 2 dunums plot.
This is not the first time Abu Al-Halawa finds himself a victim of Israeli assaults, Israeli colonists built an outpost at the area. And for his bad fortune, the plot is adjacent to the southern part of the colony, which made him exposed to colonists' assaults such as uprooting trees, assaults, and he was threatened with a gun several times.
Five years ago, Abu Al-Halawa planted 400 olive saplings at the plot, and this year he planted cucumber and Zucchini in 20 dunums.
In May 13th 2021, Colonists sat flames to Palestinian fields nearby the colony, while the occupation forces were covering for them, and when farmers rushed to stop the fire, the occupation forces shot young man Ismael At-Tubasi (26). the fire ate about 20 dunums of lands planted with olives and forests belong to families of Abu Al-Halawa, Al-Halaq , At-Tubasi), the fire ate 150 olive trees , colonists also smashed a vehicle that belongs to Kathim Al-Halaq at that time.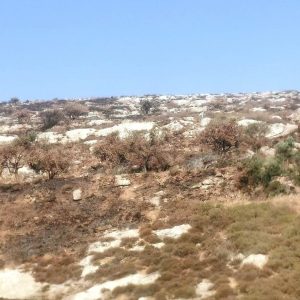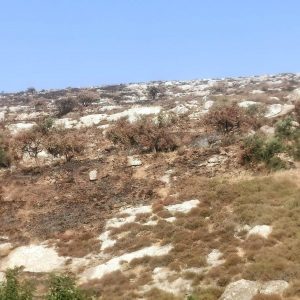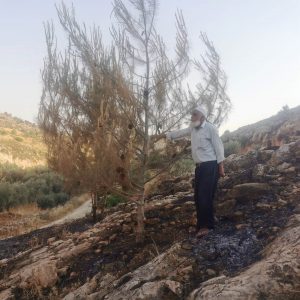 Photos 1-3: The targeted trees in the arson attack
Colonists carry out continuous assaults in nearby farms, to push Palestinian farmers to leave the area for the favor of colonial expansion, pointing out that they haven't receive any notices from the occupation authorities.
About Ar-Rihiyya village:[1]
Ar-Rihiyya is located 12 Km south Hebron, and has a total population of 6000 people, inhabited by families of At- Tobasi, Al-Halaq, Al-Harsh, Abu Halawa, As-Sous, Al-Qerr, An-Najjar , and managed by a village council, the village contains a water, Electricity , and telephone network. Ar-Rihiya contains two basic schools and two high schools, kindergarten, three cooperatives, seven mosques. The village is surrounded by Yatta (east) , Al-Fawwar refugees camp (west), Hagai (north) , and Yatta (south).
[1] GIS-LRC