'Adei Ad colonists set fire to a Wheat Field in Al-Mughayyir village/ Ramallah Governorate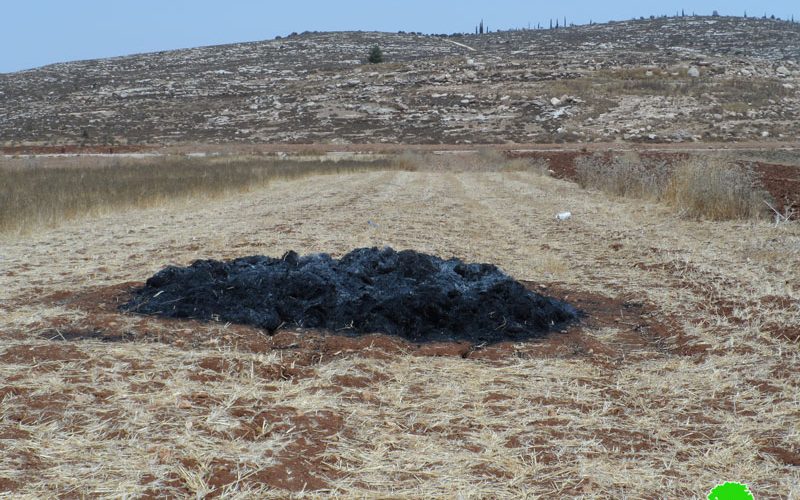 Violation: Setting fire to a two-dunums wheat field.
Location: As-Sedr area – Al-Mughayyir village / Ramallah Governorate.
Date: May 10th 2021.
Perpetrators: 'Adei 'Ad colonists.
Victims: Farmer Fadel Abu 'Alya.
Description:
Monday May 10th 2021, A group of 'Adei 'Ad colonists raided As-Sedr area south Al-Mughayyir and sat fire to grain hays collected by familiy of Fadel Abu 'Alya from Jib'it , they also burnt down the wheat crop.
Fadel Abu 'Alya told LRC: "I am the only supporter of a family of 9 , 6 of them are children. I have rented a plot in As-Sedr area with a total area of 2 dunums , that have been cultivated with wheat every years . The plot produces about 500 kg of wheat, in addition to the grain hays production which provides feed for cattle."
Abu 'Alya asserted: "This year, May 9th 2021, I went with my children to the plot to harvest the wheat, but we found that the whole wheat field was sat on fire, and Bedouins living in a nearby plot said that they have seen Israeli colonists setting the field on flames and running away."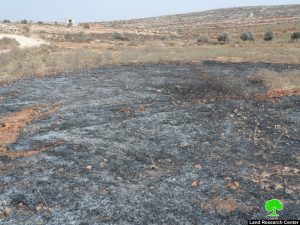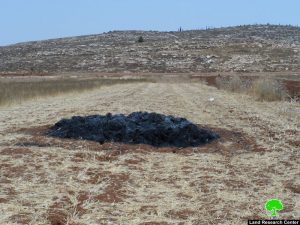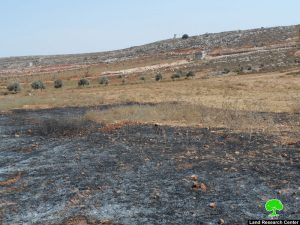 Photos 1-3: The wheat filed after being burnt
As-Sedr and Adh-Dhaherat areas south Al-Mughayyir are heavily targeted by the Israeli Occupation. Reportedly, during the past few years, colonists carried out several attacks at the area represented in cutting hundreds of olive trees and saplings, sabotaging crops, attempting to Seize lands.
In addition, in 2020, Israeli colonists built an illegal outpost at the area, which caused a notable escalation in colonists' assaults at Al-Mughayyir and Turmus'ayya, and during the past year alone nine attacks were reported against Palestinian farmers and their farmlands.
Abu 'Alya asserted:
 "Colonists carry out daily assaults against farmers in order to terrorize them and push them to leave their areas, and despite many complaints filed to the Israeli Occupation authorities, not one serious investigation was opened."
Al-Mughayyir:[1]
Al Mughayyir is located 30 km to the north east of Ramallah; it is inhabited by around 3,249 people according to the PCBS statistics conducted in 2017.
Most of the village agricultural fields are located in its eastern parts; its total area is 33055 dunums, 501 of which are built-up area.
The Israeli occupation confiscated 37 dunums of Al Mughayyir lands for bypass #458.
According to Oslo Accords, about 95% of the village is under Area C while only 5% is under Area B.
Area B: 1,695 dunums
Area C: 31,360 dunums
[1] GIS-LRC