The Occupation Authorities Issue Demolition orders for 3 Structures in Beit Sakariya/ Bethlehem Governorate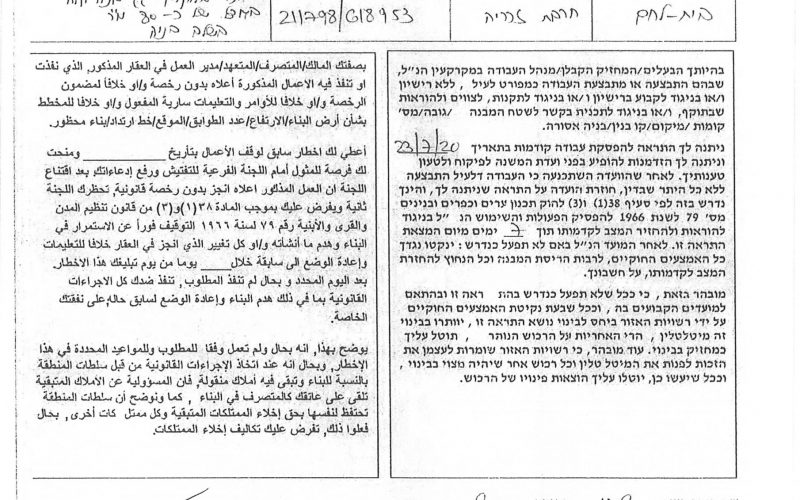 Violation: Final Halt of Work and Demolition orders
Location: Beit Sakariya village / Bethlehem Governorate.
Date: April 12th 2021.
Perpetrators: The Israeli Civil Administration.
Victims: Mohammed Sa'ad and Hatem Sa'ad.
Description:
Monday, April 12th 2021, The Israeli Civil Administration under the protection of the occupation forces raided Beit Sakariya village and issued halt of work notices for several structures, on the pretext of building without a license.
The notice ordered the immediate stoppage of construction works, and returning the plot to its previous status, read our published report in July 23rd 2020.
The following table shows more information about the targeted structures:
Affected Citizen

Family members

children

Construction area

Notice type

notes

Mohammed Sa'ad

6

2

80

Final demolition order 31854

Residence

80

Final demolition order 31855

Residential shack

Hatim Sa'ad

3

1

80

Final demolition order 31853

Built of bricks and steel sheets under construction

Beit Sakariya suffocated by the Israeli occupation:
"Beit Sakariya village is similar to a large prison being surrounded by 12 Israeli illegal colonies (Gosh 'Etzion settlement cluster) which devoured thousands of dunums from villages and towns in Bethlehem governorate , and the only way to enter or exit the village is through one of the surrounding high security Israeli colonies."
People of the village live in continuous anxiety, especially children who fear colonists' attacks at night. Furthermore, most houses are too small for the families, and they can't add any new structures or develop their buildings because the occupation stands on the way.
Children also suffer because the village contains only one school, and they have to go to another village to attend high school, which exposes them to colonists' harassments on their way to and back from school.
The Occupation practices these violations as a form of forced displacement policies, in order to put pressure on the village people to leave their village.
About Beit Sakariya:[1]
Khallet Beit Sakariya (Beit Sakariya hamlet) is located some 5 km east of the 1949 Armistice Line (Green line) and about 8.5 km to the southwest of Bethlehem city. It's considered part of Nahhalin village cluster along with Khallet al Balluta (Al Balluta Hamlet), all comprise a total area of 17249 Dunums. Khallet Beit Sakariya is a home to 142 inhabitants, according to the Palestinian Central Bureau of statistics – 2007 and sets on a total built of 49.5 dunums.
Settlements surrounding the hamlet:
| | | | |
| --- | --- | --- | --- |
| Settlement's name | Establishment year | Total area ,Dunums | Settlers number |
| Rosh Zurim | 1969 | 855 | 263 |
| Alon Shifot | 1971 | 934 | 3146 |
| Elazar | 1975 | 492 | 882 |
| Kfar Etzion | 1967 | 923 | 404 |
[1] GIS-LRC
Israeli violations against the Palestinian Housing Rights is part of collective punishment policies, which are a violation of international conventions and agreements, such as:
Article 33 of Geneva fourth convention: No protected person may be punished for an offence he or she has not personally committed.
Article 53 of Geneva fourth convention that forbids destroying properties: Any destruction by the Occupying Power of real or personal property belonging individually or collectively to private persons, or to the State, or to other public authorities, or to social or co-operative organizations, is prohibited, except where such destruction is rendered absolutely necessary by military operations.
Article 147 of Geneva fourth convention: extensive destruction and appropriation of property, not justified by military necessity and carried out unlawfully and wantonly. ( it is considered a serious violation of the convention)
[1] GIS-LRC
Prepared by
 The Land Research Center
LRC