Israeli Illegal Colonists Build a New Outpost on Zanuta village lands / South Hebron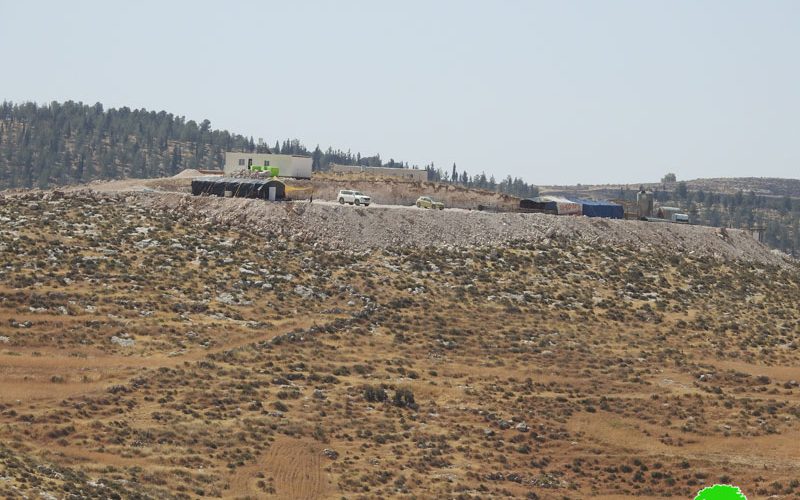 Violation: Building a new outpost.
Date: April 2021.
Location: Zanuta/Ad-Dhaheriya / Hebron Governorate.
Perpetrators: Illegal Colonists.
Victims: People of Zanuta village.
Description:
Illegal Israeli colonists established a new outpost on citizens lands in Zanuta village, South Ad-Dhaheriya town, Hebron Governorate.
Preparation and leveling for the outpost had started in March 10th , when People of Zanuta saw machineries opening a road nearby their village. The new road is about 1.5 km and connects the location of the new outpost to another outpost Metarim.
The machineries carried out ravages in a plot belongs to At-Tell family, and leveled down (20-30) dunums as a preparation for construction, later colonists brought Caravans, and set up barns, and brought a herd to the area.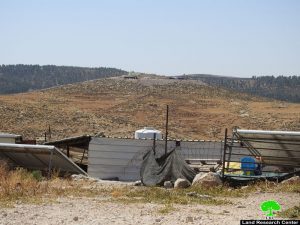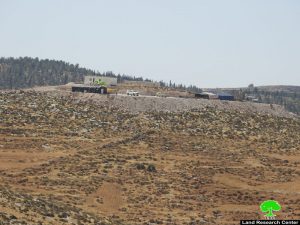 Photos 1+2: the new outpost in Zanuta
The new outpost contains two caravans, two barns for cattle breeding, and other agricultural tools, Eyewitnesses pointed out that colonists own 400 heads of sheep.
Once colonists came to the area, they started harassing and assaulting farmers of Zanuta, their aim is to keep Palestinian farmers and herders away from postures.
 In April 17th 2021, Farmer Bassim Khdairat (41) accompanied by his two children was pasturing his herd (300 heads of sheep) south the village. and at 8:00 am , five colonists covering their faces and accompanying a dog attacked him, they chased the herder and the herd out of the postures using their angry dog , and throwing stones for about half a Kilometer to the village.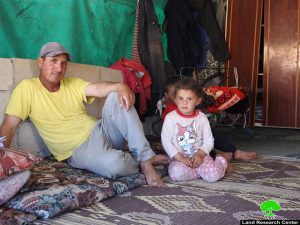 Photo: Citizen Bassim Khdairat and his children
Khdairat described his terrified children while running away from fanatic colonists and their dog. He also pointed out that colonists do not commit to Pastoral area, and allow their herds to eat plants and enter farmlands to destroy crops.
 Zanuta village:[1]
The village is located to the south of the town of Dhahriya, and its population is about 200 people who live in tents and tin dwellings, and they work in raising livestock and cultivating lands.
It is bordered on the east by the colonial outpost "Mitarim", on the north and west by the bypass road (60), and on the south by the annexation and expansion wall. The village has been run by a village council recognized by the Palestinian Ministry of Local Government since 2019.
The entire village is under threat of deportation, as the occupation authorities claim that it is built on an archaeological site, despite the fact that this village has been owned by the residents of the town of Dhahiriya since ancient times.