Israel targets a road with Administrative demolition in Al-Walaja/ Bethlehem Governorate
Wednesday, April 28th 2021, The Israeli Occupation Forces raided Al-Walaja village, and gave citizen Sami Abu Kamel an administrative order to demolish the road that is being leveled nearby the house.
The targeted road is 3m wide, and was expanded to 5.5m, the modifications at the road will facilitate movement for citizens of the area especially in winter, and will help in protecting and providing access to vast areas of agricultural lands. Before rehabilitating the road, taking agricultural machineries to the plot was almost impossible. Noteworthy, the administrative order was served in April 28th 2021 , a month and a half after the issue date in March 14th 2021.
Citizen Sami Abu Kamel told LRC the following:
"I've been working on the plot that I have inherited from my family, through building retaining Walls and planting trees, I have decided to expand the street that leads to my plot, because it is the only way. Once I finished working on the road, I received an administrative notice, is it because I've been working on my plot?
I have Legal Papers prove that I own the land, and I've been working on it every day. The Only thing I could do, was to prepare a legal file and give it to a Legal Aid institution to follow up the case administratively and with hopes to save the road. I don't believe in Israeli Juridical system, but I am forced to deal with them."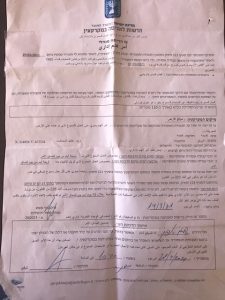 Photo 1: The Administrative order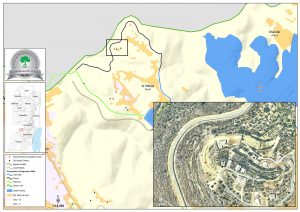 A map shows the location of the road
The Israeli Occupation is trying to Seize more lands from Al-Walaja, in order to expand their illegal colonies, and impose restrictions on Palestinian construction.
Legal Feedback:
Demolishing Palestinian constructions is a violation of international law:
Article 147 of Geneva fourth convention: extensive destruction and appropriation of property, not justified by military necessity and carried out unlawfully and wantonly. ( it is considered a serious violation of the convention)
Article 53 of Geneva fourth convention that forbids destroying properties: Any destruction by the Occupying Power of real or personal property belonging individually or collectively to private persons, or to the State, or to other public authorities, or to social or co-operative organizations, is prohibited, except where such destruction is rendered absolutely necessary by military operations.
Article 33 of Geneva fourth convention: No protected person may be punished for an offence he or she has not personally committed.
Article 32 of Hague convention 1907-part g: To destroy or seize the enemy's property, unless such destruction or seizure be imperatively demanded by the necessities of war.
Article 17 of Universal declaration of human rights 10 –Dec- 1948:  No one shall be arbitrarily deprived of his property.
Al-Walaja :[1]
The village of Al Walaja (diminishing from an area of 17,793 dunums to 2400 dunums due to the greed of the Israeli occupation and its colonial project): From 1948 until today, the Israeli occupation has been practicing land theft on the village of Al-Walaja, 8.5 km southwest of Jerusalem and 5.4 km northwest of Bethlehem. The area of the village was 17793 dunums, of which 11793 dunums were occupied by Israel through the Armistice Agreement with the Jordanian Arab side under British patronage. In 1967, the village of Al-Walaja had 6000 dunums. In 1996, Israeli authorities confiscated 500 dunums of the village for the construction of the bypass road (for settlers). Another 1000 dunums were seized in its southern area for the establishment of the settlement of Gilo over the period of 1969-1997, leaving the village with only4500 dunums of land. That did not stop, the Israeli occupation forces confiscated yet more land by building the Apartheid Wall that looted around 2100 dunums of agricultural land that was planted with olive and almond trees.
[1] GIS-LRC
Prepared by