Two houses demolished in 'Ein Shibli / Nablus Governorate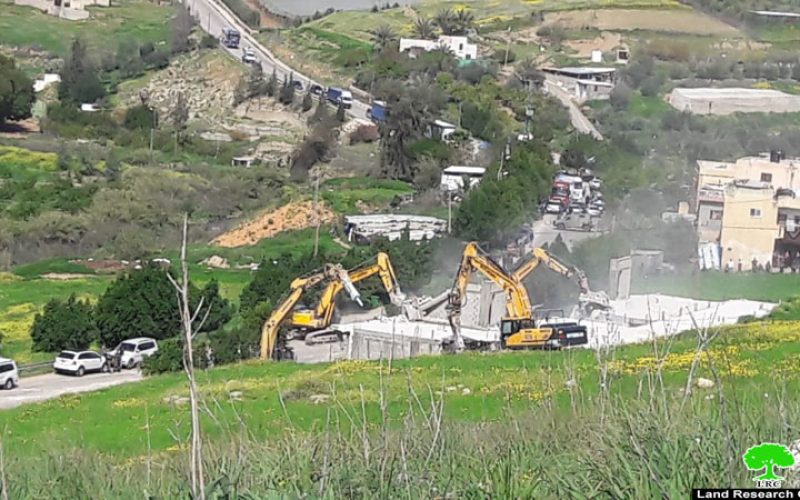 Violation: Demolishing two houses.
Location: 'Ein Shibli village / Nablus Governorate.
Date: March 10th 2021.
Perpetrators: The Israeli Civil Administration and army.
Victims: families of Jamal and Mazin Al-'Umari.
Description:
Wednesday, March 10th 2021, about 9:00 am a massive army force accompanied by a vehicle from the building and organization department and heavy mechaneries raided 'Ein Shibli east Nablus.
The armed troops got to the village, sealed off its both entrances, and imposed a curfew to demolish houses of citizens Jamal Al-'Umari and Mazin on the pretext of building without a license.
Photos 1-6: the destruction
Affected Citizen Jamal Al-'Umari (50) testified : "About 9:30 am , a massive army force accompanied by 6 excavators raided the village and carried on demolishing two houses. People of the village were trying to halt the demolition, but the occupation forces fired tear gas at protestors."
Jamal Al-'Umari pointed out that the demolition operation was vicious, and 6 heavy machineries implemented the demolition, the leveling was completed in 3 hours.
Al-'Umari contacted legal aid organizations including Colonization and Wall Resistance Commission and the Jerusalem Legal Aid and Human right center , and other lawyers, these procedures cost 40,000 nis , but yet failed to save their houses.
In August 12th 2020, the Occupation authorities served demolition and removal notices for two houses, within 96 hours in reference to military order 1797 issued in 2017, which targets uninhabited and incomplete buildings.
Photos 7+8: The notices that target houses of Al-'Umari brothers
Jamal Al-'Umari houses composes of 2 floors, each floor has a total area of (450 m2) and inhabited by a family of 10 at the upper floor , while the first floor composes of stores.
On the other hand, Mazin Al-'Umari house composes of two floors , each one has a total area of (450 m2), the first floor is stores, while the second in  a home for his family of 7.