Demolishing and Confiscating an Agricultural facility in Zif / Hebron governorate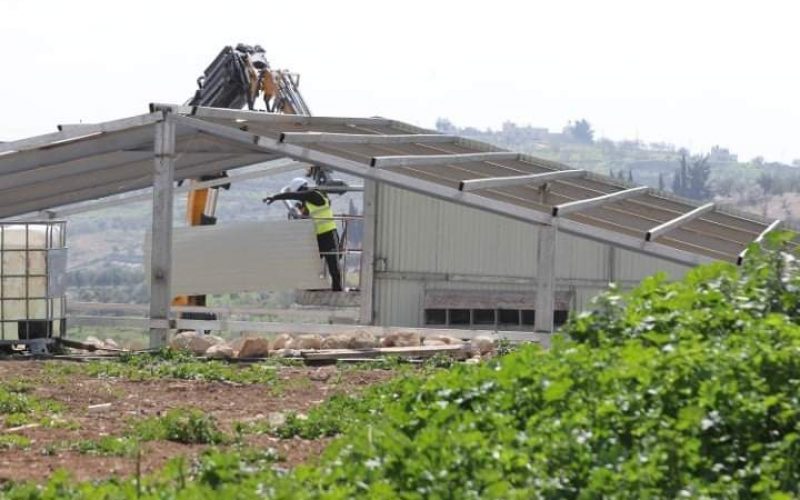 Violation: Demolishing and Confiscating an agricultural facility.
Date: March 2nd 2021.
Location: Zif – Yatta / Hebron governorate.
Perpetrators: The Israeli Civil Administration.
Victims: Citizen Farid Aj-Ja'abari.
Description:
March 2nd 2021, the Israeli Occupation authorities demolished and confiscated an agricultural facility belong to Citizen Fareed Aj-Ja'abari , on the pretext of building without a license in Zif east Yatta , south Hebron.
About 12:00 pm, a massive army force, border guards, and the building and organization department staffs raided the area of Zif along with two trucks, JCB bulldozer, and workers of an Israeli civil company, they all encircled the location, got the cattle out of the facility, then dismantled it using electric tools.
The targeted facility is reportedly built of steel sheets installed on metal columns (200 m2) and used for cattle breeding, it contained 120 heads of sheep. The construction of this structure cost 120,000 shekels (about 35 thousand dollars).
Aj-Ja'abari , who owns a plot at the area , set up the facility in December 2020 , the occupation however carried out the demolition without any preceding notices. Thus, the owner did not have a chance to object.
In such cases , the occupation forces confiscate the components and/or the materials of the facility, and keeps them in Kfat 'Etzion colony , they also impose high fine on the owners if they wanted the properties back for a while, after the given period is over the properties are offered in public auction.