Colonists gangs uproot Almond Saplings and Destroy a Siege in Deir Nitham / Ramallah governorate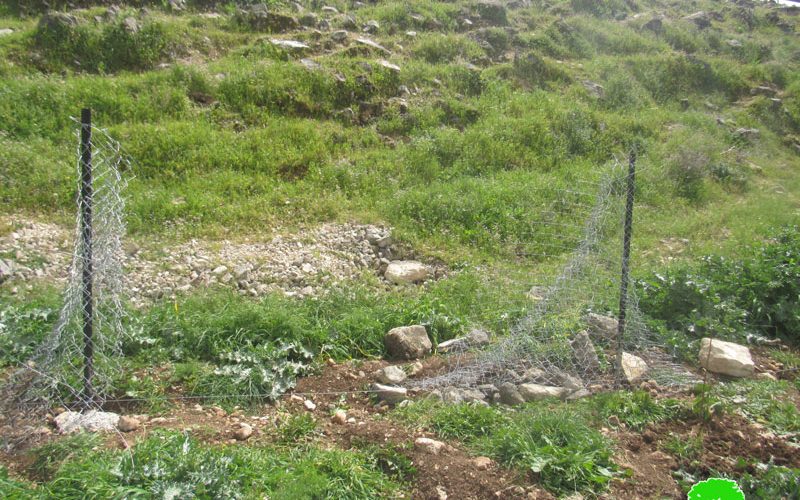 Violation: Uprooting 1991 almond saplings and sabotaging a metal siege (800 m).
Location: Wad Abu Rayya – Deir Nitham village / Ramallah governorate.
Date: March 19th 2021.
Perpetrators: Colonists gangs.
Victims: Families in Deir Nitham.
Description:
Friday, March 19th 2021, a group of colonists raided Deir Nitham in Ramallah, and sabotaged 800 m of a metal siege using sharp tools, they also destroyed a metal gate on the siege and uprooted 1991 almond saplings.
Noteworthy, the targeted area is nearby "Halmish" colony on the town's lands, colonists take advantage of farmer's absence to carry out their attacks.
The targeted saplings were planted with the help of the Economic and Social Development Center of Palestine, within activities of a project supervised by the Ministry of Agriculture in early 2021. the activities included planting 55 dunums with different kinds of almond saplings , and setting up a metal siege around the groves .
One of the victims Mohammed At-Tamimi told LRC : "I own a plot in Wad Abu Rayya area north the village , and during the past years , I used the plot as a farmland to provide for my family. Unfortunatly, I am disabled and I don't have any other source of income. Part of the plot was planted with almond trees with the help of the ESDC, colonists sabotaged my saplings last year and they do it once again now. And I don't have any sources left to provide for my family.
The Only resource for Palestinian farmers is the land they inherited from their fathers. However, conflict on land-use is vicious now, as Israeli colonists try to make as much as possible of Palestinian lands.
The following table shows more information about farmers and number of trees:
Affected farmer

Area in dunums

Number of saplings

The targeted siege

Samih At-Tamimi

1

34

–         800 m siege for the whole area.

–         Metal gate for the whole area.

Abdulbasit At-Tamimi

1

36

Faraj At-Tamimi

6.

18

Mohammed At-Tamimi

1

39

Ali Al-Khateeb

1

32

Akram Al-Khateeb

1.5

47

Nasr At-Tamimi

4

147

Heirs of Salama At-Tamimi

4

149

Mahmoud Al-Khateeb

5

182

Natheer At-Tamimi

3.5

122

Tawfeeq At-Tamimi

1

33

Fawzi Al-Khateeb

3

107

Mohammed At-Tamimi

1

34

Heirs of Ziad At-Tamimi

3.5

129

Dawoud At-Tamimi

10

360

Mahmoud At-Tamimi

7

262

 Three farmers frpm another village

7

260
The Occupation is imposing difficulties on people of the village, through closing the village entrances, and imposing control over vast areas of land to expand Halmish colony.
Photos 1-4: the area after the attack
About Deir Nitham village:
25 kilometers north west Ramallah, Deir Nitham village is surrounded by An-Nabi Salih and Bni Zeid Al-Gharbeyeh towns (north) , 'Abud (west) , Kobar and  Umm Safa (east) and Beitillu (south). It has a population of 876 people in 2017 census.
Deir Nitham has an area of 2,758 dunums , 161 of them are a built up area of the town, the Israeli illegal occupation confiscated parts of the towns' lands for the following purposes:
"Hallamish" illegal settlement confiscated more than 604 dunums, est5ableshed in 1977.
Bypass roads (450 and 465) confiscated over 250 dunums.
The land is divided according to Oslo convention to B and C areas:
Area B : 128 dunums.
Area C : 2,630 dunums.
[1] GIS-LRC