Bruchin colonists destroy an Agricultural Room in Dhohor Soboh area / Salfit Governorate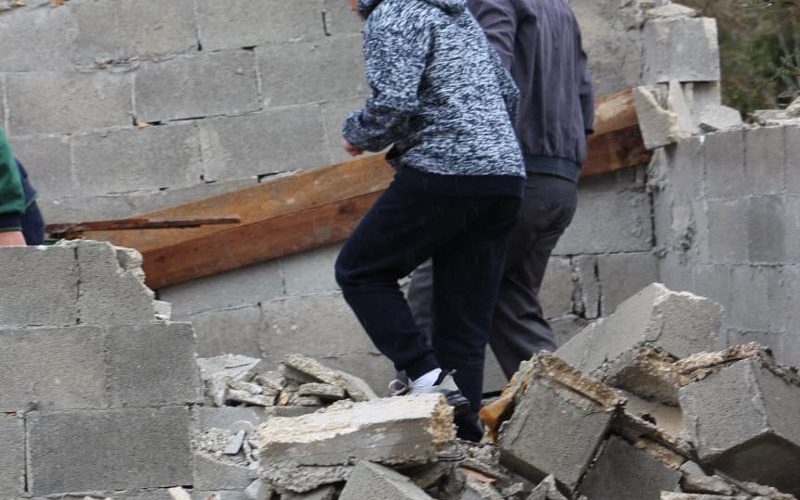 Violation: Demolishing an agricultural room built of bricks and zinc.
Location: "Dhohor Soboh" /north Kafr Ad-Dik town/ Salfit Govenrorate.
Date: March 4th 2021.
Perpetrators: "Bruchin" colonists.
Victims: Farmer Shadi Ahmed.
Description
Thursday, April 4th 2021, a group of colonists from Bruchin raided a plot in Dhohor Soboh, and demolished an agricultural services room built of bricks and zinc with a total area of 12 m2 , belongs to farmer Shadi Ahmed from Kafr Ad-Dik town , using hand tools.
The affected citizen told LRC:
"About a month ago I started building an agricultural service room in my olive grove (11 dunums), part of the lands is close to the borders of the illegal colony Bruchin. as I was building the room I was harassed several times by colonists, they even sent a drone to take a close picture of the structure, which made me realize that they will target the room."
Photos 1-5: the rubble of the room after the demolition
Noteworthy, only few meters away from the targeted room, colonists sabotaged 30 olive trees aging 40 years old. Using electric saws, they cut down the trees from an olive grove that belongs to farmer Mohammed Ayoub.
In addition, not long time before, Illegal colonists stole olive harvest and attacked farmers and their families while they were harvesting olives, these are examples of colonists' violence and vandalization acts at the area.
An introduction to Kafr Ad Dik:[1]
Kafr Ad Dik is located 15 km to the west of Salfit. It is surrounded by Bidya (north), Rafat and DeirBallut (west), Bruqin and Sarta (east), and BaniZaid villages (south). KafrAdDik has a population of 4553 people, according to a 2007 census.  Its total area is 15529 dunums; however, it has been suffocated by bypass roads and 3 Israeli colonies that lay over their lands. This has further limited its expansion knowing that it had already had a 791-dunum organizational plan (built-up area); it also isolated the village from its surroundings. The Israeli occupation confiscated 2477 dunums of Kafr Ad Dik lands as followed: 
About 1225 dunums were seized for the construction of the following colonies:  
| | | | |
| --- | --- | --- | --- |
| Name of colony | Year of construction | Area of confiscated land/ dunum | Number of colonists |
| Har Eli Zahav |  1983 | 134 | NA |
| Eli Zahav- Yoezer | 1982 | 290 | 424 |
| Bedoel | 1984 | 800 | 1088 |
|  Bruchin | 1999 | 1 | NA |
| Total |   | 1225 |   |
*Source: Field Research- Monitoring Israeli Violations Team- Land Research Centre (LRC).
About 362 dunums for the building of bypass roads;
About 890 dunums for the construction of the Wall, in addition to the inclusion of 8824 dunums inside it;
 The lands of Kafr Ad-Dik are categorized according to Oslo Accords into lands under Area B (15% of the lands) and lands under Area C (85% of the lands).
[1] GIS-LRC
Prepared by
 The Land Research Center
LRC