The Occupation Notifies a Structure for Suliman family in Tuqu' town / Hebron governorate
Violation: Removal notice for a building.
Location: Tuqu' town / Hebron governorate.
Date: February 9th 2021.
Perpetrators: The Israeli Civil Administration.
Victims: Mahmoud Suliman.
Description:
Tuesday, February 9th 2021, The Israeli Occupation Forces raided Tuqu' town and notified a house belong to citizen Mahmoud Suliman on the pretext of building without a license.
Mahmoud Suliman told LRC:
"We sat up foundations for the house in a residential area, the construction was implemented few months ago, but we just received a notice for the building on the main street."
According to the notice, the occupation forces may remove the building within 96 hours after delivering the notice, and the affected may object within 69 hours (but that won't necessarily protect them from demolition).
This type of notices is unjust to Palestinians, the owners are not given enough time notice to defend themselves, this type of orders aim to stop Palestinians from building on their own lands, the notice does not even give legal aid institutions the chance to defend the victims.
Moreover, The occupation carries out a number of Human Rights Violations in Tuqu', including movement restrictions and closures in the village's main entrances. In addition, the occupation forces internationally terrorize children on their way to and from school.
The following table shows more information about the targeted family:
| | | | | |
| --- | --- | --- | --- | --- |
| Citizen name | family members | children | threat | Notice number |
| Mahmoud Suliman | 4 | – | Removal notice | 20550 |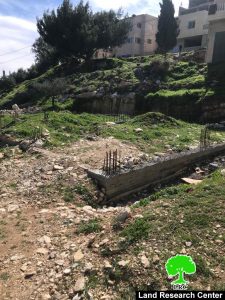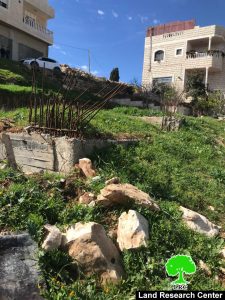 Photos 1-2: Photo of the notified building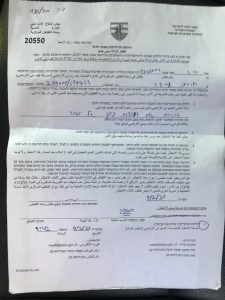 Photo 3: Photo of the notice
 About Tuqu':
5 Km south Bethlehem, Tuqu' is surrounded by Ash-Shawawra, Za'atara, Khalet Al-Hadad and Jannatah (north), Marah Ma'ala, Al-Ma'asara and Beit Fajar (West), the Dead sea (East), Kissan village (South).
Tuqu' has a population of 8767 people in 2017 census. The village has a total area of 199,634 dunums, of which 1627 dunums are the town's built up area , which includes ( Tuqu', Khirbet Ad-Dear, Al-Mansheyeh, Beit Fajar, Kissan, Al-Menyeh, Al-Holqum, Wadi Mohammad, Khirbet Tuqu' and Marah Ma'ala."
The Israeli occupation authorities devoured about 1570 dunums for the following purposes:
"Tquah" settlement was established in 1977 , on 1,033 dunums of Palestinian confiscated lands, inhabited by 1,116 settlers.
"Mshki Dar Got" was established in 1991, and confiscated 93 dunums.
"Nokdim" was established in 1982 , and confiscated 345 dunums, inhabited by 646 people.
Bypass roads 356/3157/3670 devoured more than 99 dunums.
Oslo accords divided the land into C and B areas :
B area: 3,954 dunums.
C area: 195,680 dunums / of which 46,841 dunums are a natural reserve.