The Israeli Occupation Serves a halt of Work Notice in Wad Rahal Village / Bethlehem Governorate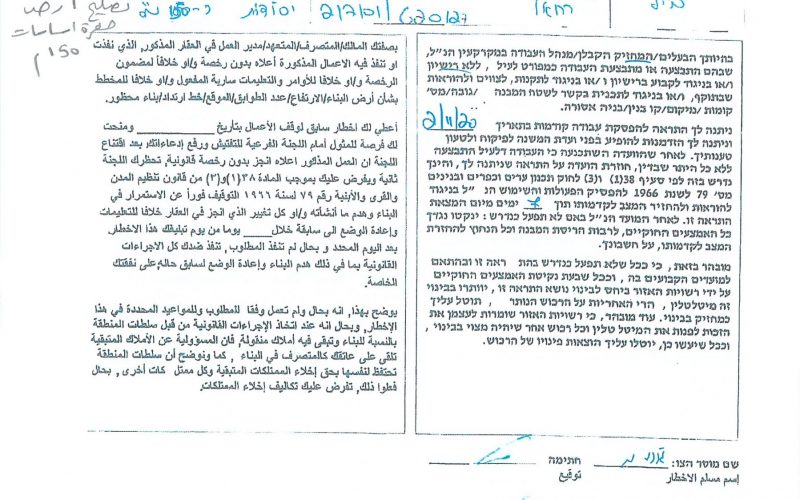 Violation: Halt of Work Notice for an under-construction house.
Location: Wad Rahal village / Bethlehem Governorate.
Date: February 4th 2021.
Perpetrators: The Israeli Occupation Civil Administration.
Victims: Mohammed Abu Sawi.
Description:
Thursday, February 4th 2021, A vehicle from the civil administration protected by the occupation forces raided Wad Rahal village and gave citizen Mahmod Sawi a notice, on the pretext of working at his plot without a license. A copy of the notice below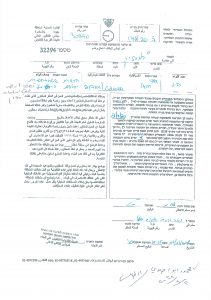 Israeli notice No. 32294
Noteworthy, in November 2nd 2020, the occupation gave citizen Abu Sawi a halt of work notice, and ordered to return the plot to its previous status  within 7 days after serving the notice.
The following table shows more information about the notice:
| | | | | | |
| --- | --- | --- | --- | --- | --- |
| name | Family members | children | Area m2 | Nature of the building | Notice number |
| Mahmo |   |   |   |   |   |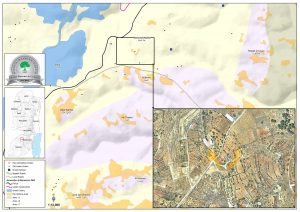 A glimpse on Rahal village:
Wadi Rahal village is located 12 km to the south of Bethlehem, and it is bordered to the north by the village of Artas, to the west by the village of Wadi al-Nis, "Efrat settlement", to the east by the villages of Janata and Hindaza, and from the south by the village of al-Maasara.
Its population is (1819) people, according to the Palestinian central burau of statistics for (2017(. Its total area is 4,131 dunums, of which only 173 dunums are built-up area.
The apartheid wall was built on part of its lands (1235 meters long) , where 123 dunums were looted under its path, and 142 dunums were isolated behind it.
The lands of the village are classified according to the Oslo Agreement as followed:
Areas classified as B (1,710) dunums.
Areas classified as C (2,421) dunums.
Prepared by
 The Land Research Center
LRC