A house and cistern demolished in Khallet al-Maghribi, south of Hebron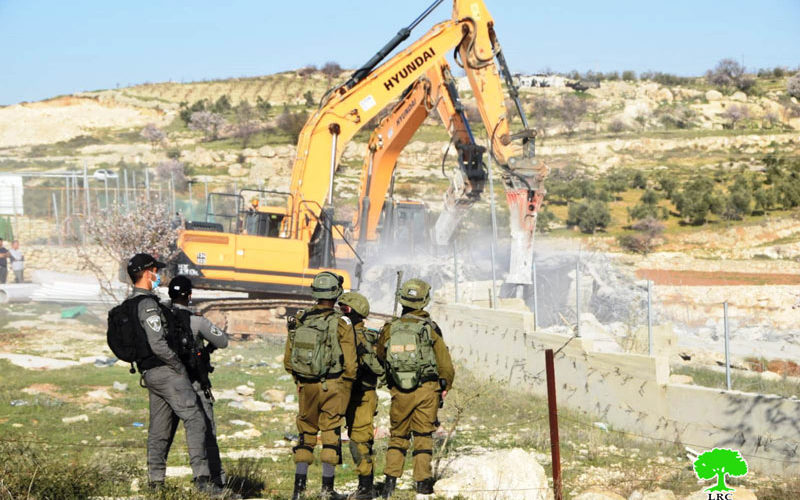 Violation: demolition of  a house and cistern.
Date of violation: 03/02/2021.
Location: Khallet al-Maghribi, south of Hebron.
Perpetrators: the so-called Israeli Civil Administration.
Affected party: citizen Jamal Sarsour.
The violation details:
On Wednesday, February 3, 2020, the Israeli occupation authorities demolished a house and a cistern owned by Mr. Jamal Rajab Mahmoud Sarsour, under the pretext of building without a license in the "Khallet al-Maghribi" area, south of Hebron.
At about 3:00 PM, a force from the occupation army and the so-called border guards and the Planning and Building Department of the "Civil" Administration stormed the area, bringing with them two excavators made by the "HYUNDAI" company.
After the Israeli occupation forces had surrounded the site, the two excavators  began to demolish the house and the cistern.
The 140 m2 demolished house made of concrete and stone and was built in 2017, and houses a family of 12, including 5 children.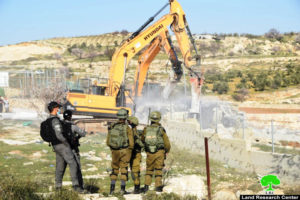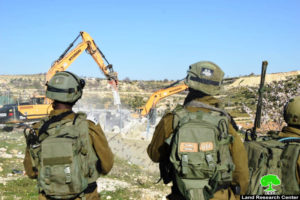 Photos 1 + 2: The ruins of Jamal Sarsour's house
A cistern with a storage capacity of 220 m3 , built under the house was also demolished .
The affected citizen, 55 years old, told the LRC field researcher that   the occupation authorities had issued in July 2020 a notice to stop work in the house, under the pretext of building without a permit, the Owner prepared the necessary file to be presented to the court through a lawyer to get a building license, but the file was rejected and the house was demolished.
The owner asserted :
 "when the occupation forces reached the site, they gave no time to get the house cleared of its contents which raised the value of the losses to 35 thousand US dollars.
It should be noted that the area of Khallat al-Maghribi, is located south of Hebron, to the west of the bypass road No. 356. Recently, the Palestinian construction expansion is Increasing at the area, which prompted the occupation authorities to impose new restrictions on construction movement to limit this expansion , to keep the land a reserve for future colonial expansion.