Israeli colonists uproot olive seedlings South Hebron governorate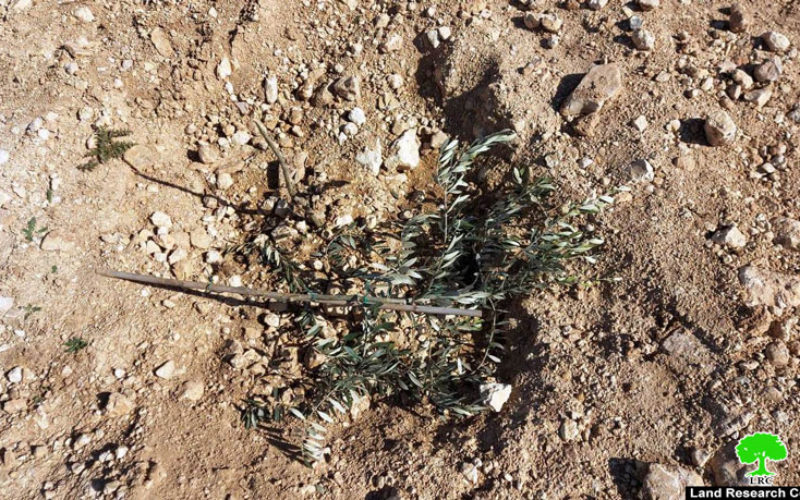 Violation: uprooting and cutting off olive trees
Location: Shu'ub Al-Bottum- Yatta
Date January 19, 2021
Perpetrators: Avegeil colonists 
Victims:  citizens Ibrahim and Ali Jibreen
Details:
 A group of Israeli colonists uprooted and cut off a number of olive trees in the area of Wad Ma'een nearby Shu'ub Al-Buttum area of Massafer Yatta, south Hebron governorate.
The aggrieved citizen Ismael Jibreen (53 years old) told Land Research Center the following:
" I live in area to the east of Shu'ub Al-Buttum village, where I own a parcel of land planted with olive trees. My neighbor Ali also owns a parcel of land nearby mine. On January 19, 2021, I visited my land to check up on it and was shocked to see the sings of vandalism and damage on the trees. It seems that perpetrators used their hands and scissors to cut off the trees"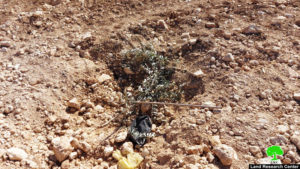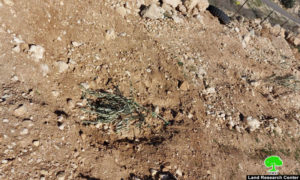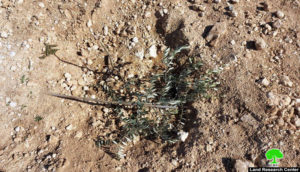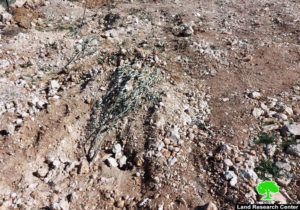 Photos 1-4: some of the uprooted seedlings
He also added:
"I called my neighbor Ali and other activists in the area, who in their turn summoned Israel's Police and Civil Administration to report the incident. The Police took our testimony and requested us to submit a complaint to the Police Station located in Qiryat Arba' colony. My neighbor Ali did indeed submit the compliant". 
Jibreen accuses some of Aveigal colonists. He recalls a vehicle of colonists stopping by and passengers taking photos of his parcel.
Based on the information given by the affected citizen, the damage is reported as follows:
| | | | |
| --- | --- | --- | --- |
| Affected citizen | Number of family member | Number of damaged seedlings | Age of seedlings |
| Ismael Jibreen | 12 | 35 | 3 |
| Ali Jibreen | 6 | 60 | 4 |
Khirbet She'ab Al-Butum:[1]
Khirbet She'ab Al-Butum is located in Masafer Yatta, bordered by Khallet Ad-Dabe'a (east), bypass 317 (west), Al-Qawawis and Al-Karmel (north + south) , the Khirbet has an area of 110 dunums , and inhabited by 9 families that consist of 81 people , 37 of them are children, their homes are 7 tents , 3 barracks and a caravan, Residents of the Khirbet depend mainly on herding for living , the Khirbet consists of  443 cattle heads, 82 agricultural dunums , of which trees only cover 10 dunums and the rest are postures.
[1] GIS-LRC