Brukhin Colonists Attack Palestinian Properties in Sarta village / Salfit governorate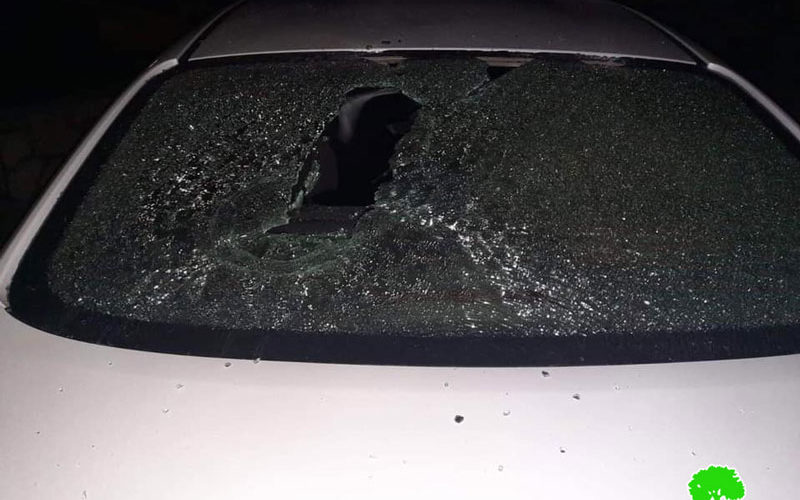 Violation: Attacking houses and smashing cars glass.
Location: Sarta village / Salfit governorate.
Date: January 4th 2021.
Perpetrators: A group of colonists.
Victims: Number of citizens from the village.
Description:
In the early morning hours of Monday January 4th 2021, a group of colonists attacked the eastern neighborhood of Jabal Ash-Shaikh from Sarta village , the security Cameras Showed seven colonists coming from Brukhin colony , ( 2 km away from the neighborhood) , and threw stones on citizens houses and vehicles.
The following citizens were harmed by the attack:
Sa'id Ghalib Sarsour: Smashed the front glass of a Kia Cerato car.
Ibrahim Mustafa Khateb: Smashed the back glass of a Kia Cerato car.
Mukhtar Sarsour: Smashing the back glass of his Mitsubishi.
Mohammed Hisham Sarsour: Smashing his house windows.
Illegal colonists threw a Sonic bomb inside a house that belongs to Mustafa Khateeb . His wife Sharefa Khateeb (55) told LRC the following:
"About 1:00 am I heard a massive explosion at the house , at first I thought that the gas tank exploded , knowing that I live with my husband (who suffers from a health condition) , son Ayman and daughter Halla at the house , I went to the door that leads to the guest room , and saw that stones are being thrown to the window , I later went to the roof for a better vision and saw a group of colonists in two cars with yellow (Israeli) registration plate driving away from the location . My daughter was terrified, and my husband suffered from a trauma afterwards."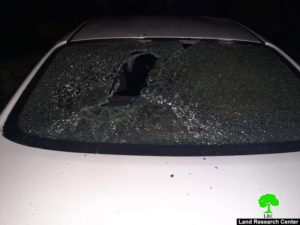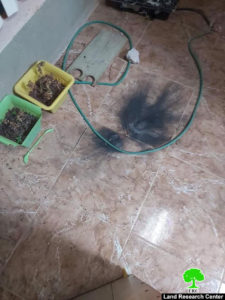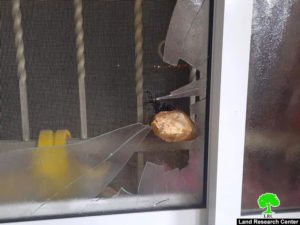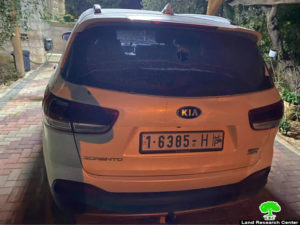 Photos 1-5: Photos of the damages on houses and vehicles
Summer 2020, LRC field worker reported an attack by Brukhin colonists represented in slashing car tires and writing hatred inciting slogans on houses walls, massive damages were reported following the attack.
Since the beginning of this year and on a daily basis, colonists intentionally block main roads between West Bank northern governorates, and attacks Palestinians who pass the roads, these attacks are coordinated and protected by the Occupation forces.
About Sarta: [1]
16 km west Salfit city, Sarta is edged by Qarawat Bani Hussan (north), Biddya (west), Haris (east) and Bruqin (south).
Sarta is populated (3,382) people according to PCBS 2017 census.
The village has a total area of 5,615 dunums , of which 457 dunums are a built up area.
Sarta is blocked by "Barkan" and "Ariel" settlements from the east, they also ate up areas of Sarta lands, and "Bruchin" settlement from the south. The occupation confiscated (644) dunums of Sarta lands , exploited in colonization:
Israeli settlements devoured (375) dunums for the settlements
| | | | |
| --- | --- | --- | --- |
| Settlement name | Establishment year | Area in dunums | Number of settlers |
| Barkan | 1981 | 301 | 1981 * |
| Barkan industrial area | 1981 | 1.8 | NA |
| Ariel industrial area | NA | 72 | NA |
*Source: Statistics of The Israeli ministry of interior – 3 January 2019
– Bypass 5 devoured (150) dunums.
The segregation wall (in case the plan was completed) , it will eat up (119) dunums, block (3,030) dunums , and will be (4,039) m long.
Oslo accords divided the land as the following:
B area : (954) dunums.
C area (4,661) dunums.
[1] GIS-LRC