The Israeli Occupation Uproots 40 Olive Saplings in Al-Mughayyir Village / Ramallah governorate.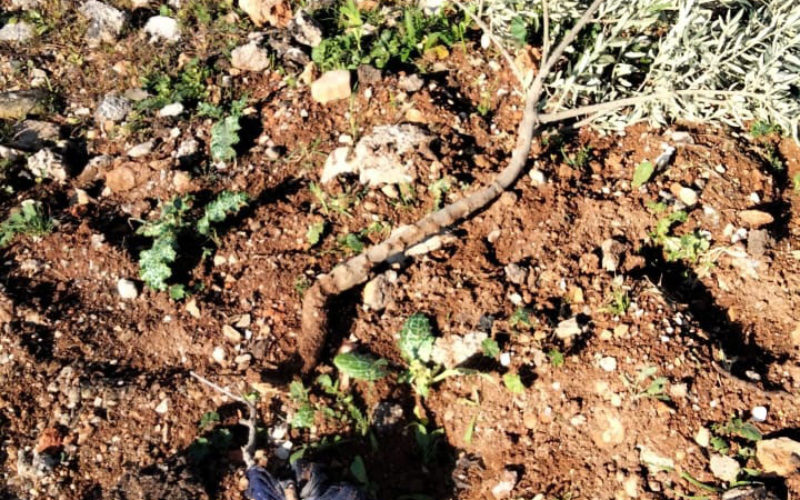 Violation: Uprooting 40 Olive trees aging 6 years old.
Location: Al-Mughayyir village northeast Ramallah city.
Date: Dec 20th 2020.
Perpetrators: The Israeli Occupation Forces.
Victims: Citizen Rawhi An-Na'asan.
Description:
The Olive tree is a symbol of Palestinian farmer's steadfastness , it reflects the conflict on land between Palestinian farmers and the arbitrary Israeli occupation, which is now controlling vast areas of Palestinian agricultural lands.
Sunday Morning Dec 20th2020 , the Israeli Occupation forces uprooted 40 olive saplings aging 6 years old planted on a four-dunums grove in Abu Al-Hadoun to the eastern side of Al-Mughayyir village northeast Ramallah , the targeted plot is nearby the Israeli bypass known as road Allon , the occupation claims that the plot is in the area of a military watch point at the eastern part of the village.
The targeted trees in Al-Mugahyyir village
The targeted trees belong to Rawhi An-Na'asan (69) years , who supports a family of four. This is the second attack of this type this year, in May 7th 2020 LRC field team documented uprooting 20 saplings from An-Na'asan'sgrove , but he planted it with olives once again. The Occupation tries to impose facts on the ground through imposing unbearable conditions on farmers , then seizing the plot under claims that it is unused.
Al Mughayyir:[1]
Al Mughayyir is located 30 km to the north east of Ramallah; it is inhabited by around 3,249 people according to the PCBS statistics conducted in 2017.
Most of the village agricultural fields are located in its eastern parts; its total area is 33055 dunums, 501 of which are built-up area.
The Israeli occupation confiscated 37 dunums of Al Mughayyir lands for bypass #458. 
According to Oslo Accords, about 95% of the village is under Area C while only 5% is under Area B.
Area B: 1,695 dunums
Area C: 31,360 dunums
[1] GIS-LRC
[1] GIS-LRC