The Israeli Occupation Authorities demolish residential and agricultural structures in Hebron governorate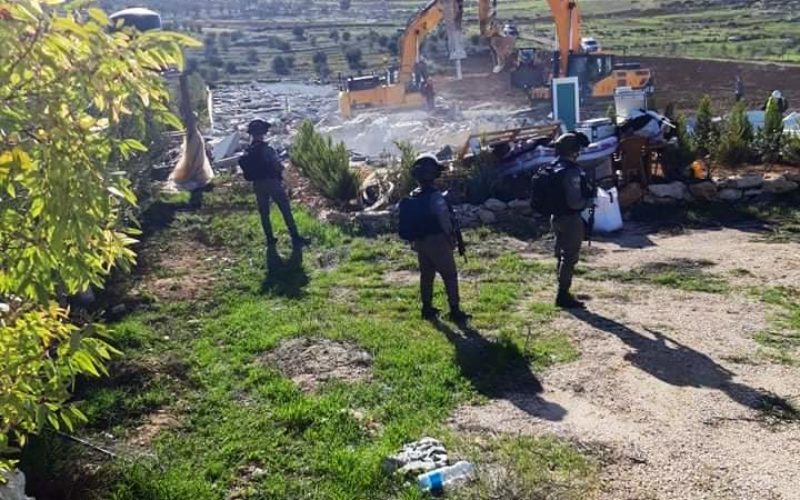 Violation: demolition of structures
Date: December 21, 2020
Location: Deir Shams, Ad-Dahriya
Perpetrators: the so-called Israeli Civil Administration
Victims: Palestinian citizens Shehdeh and Ahmad Al-Qawa'in
Details:
The Israeli Occupation Authorities demolished on December 21, 2020 two residences, a water cistern, and an agricultural facility in the area of Deir Shams, east Ad-Dahiriya village on the claim of "unlicensed construction".
It is reported that a force from the occupation army, Border Police, and the Inspection Sub-Committee of the Israeli Civil Administration raided the area and carried out the demolition attack. 
The military personnel forced the owners of properties out and the accompanying bulldozers brought the structures down.
The demolished properties are owned by the following people:
First citizen Ahmad Al-Qawa'in: the occupation forces demolished a number of structures owned by Ahmad. Details are as follows:
A 220m2 residence that is split into two apartments. The residence was ready to be home for the owner's two wives and 16 family members, including 13 children.
A 600m2 agricultural barracks that was designed to shelter sheep the owners planned to buy.
A 1300m3 water cistern that is used for irrigation and watering sheep. The bulldozer demolished it and dumped rocks into it.
Second citizen Shehdeh Al-Qawa'in: the occupation forces demolished the citizen's 100m2 residence inhabited by 5 members including 3 children.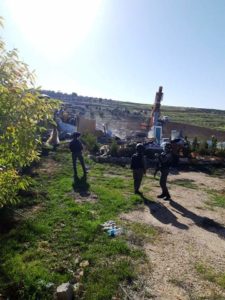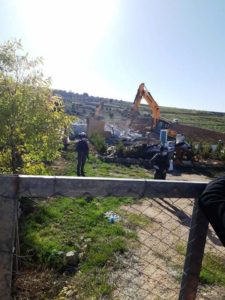 Photos 1-3: side of the demolition operation credit of As-Samou' municipality
Noteworthy, the affected citizens are cousins. They bought the targeted parcel of land in 2001. Construction works only started in 2018; it is when the occupation authorities notified the under-construction structures with "stop-work". The affected citizens appointed a lawyer to submit a licensing application. However, the "license" was not accepted; most of Palestinian requests for construction licenses from the Israeli side are rejected.
About Deir Shams:
The area of Deir Shams is located to east of Ad-Dahiriya town. It is inhabited by some families from As-Samou' town that is located closely to it. Deir Shams is edged by the Israeli bypass road number 60 form the east, Eshtmo' settlement from the south, Ad-Dahiriya town from the west, and As-Samou' town from the east.