Tens of Olive Trees sabotaged in Yasuf Village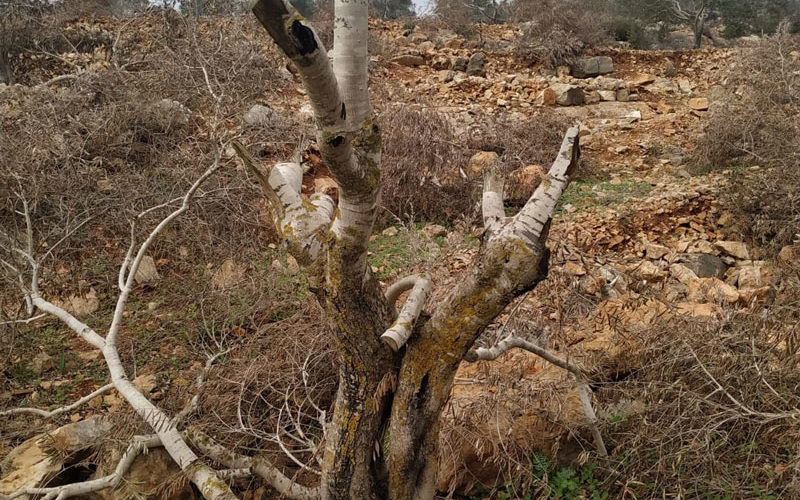 Violation: Cutting and Sabotaging Olive trees.
Location: Yasuf Village \ North Salfit city.
Date: Dec 7th 2020.
Perpetrators: Colonists of Tepuah and Rehalim illegal colonies.
Victims: Three farmers from the village.
Description:
Monday , Farmer Rida 'Ateyani went to his plot east Yasouf , only 150 m away from the so called Rehalim colony, and found out that a group of colonists used sharp tools to cut and sabotage 42 olive trees aging 40 years old.
The targeted trees belong to farmer Rida 'Ateyani (16) trees , and his brother Rajeh 'Ateyani (26) trees from Yasouf village.
Affected farmer Rida 'Ateyani (47) told LRC:
"Olive trees is the symbol of our steadfastness in the plot, which makes it a target of continuous Israeli attacks , represented in looting the harvest and prohibiting cultivation , but despite the hardship we try to take good care of our land, even if they cut the trees we will always hold on to our land."
Shots from the attack scene
Noteworthy, this attack was preceded by another one in Monday November 30th 2020 , a group of fanatic colonists cut and sabotaged 60 olive trees belong to farmer Shaher Yaseen , they also cut the siege to sneaked into the plot.
Affected farmer told LRC:
"Early this year , I rehabilitated my plot , and surrounded it with a siege for protection, then I planted it with 60 olive sapling with aid from Union of Agricultural Work Committee . But unfortunately "Tipuah" colony is built on confiscated lands 100 m  away from my plot, and its fanatic colonists sneaked into the plot while I was away and carried out their horrible attack, I filed a complaint to the Israeli police but nothing was done to stop the attack."
During the last few years, LRC team documented tens of attacks against olive groves in Yasuf village.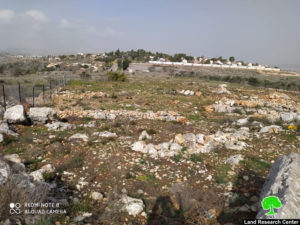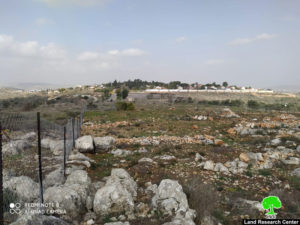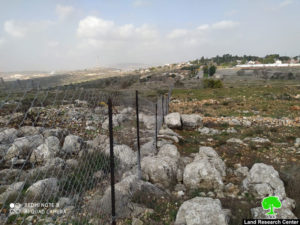 Photos 7-9: The targeted plot
Yasuf:[1]  
It is 16km south of Nablus. Yasuf is surrounded by Huwara and Jamma'in (north), Marda (west), Yatma (east), and Iskaka (south).
Yasuf is inhabited by 2093 people (according to 2017 census). It has a total area of 6037 dunums, 330 of which are built-up area of the village. 
The Israeli occupation confiscated 814 dunums for these two colonies: Kfar Tapuah colony which was built on Yasuf lands in 1978. The colony is inhabited by 523 colonists and Rachelim- Shvut that was built in 1991 and devoured 10 dunums.
Besides, the bypass road number 508 confiscated more than 155 dunums of the village lands.
According to Oslo Accords, only 1427 dunums of Yasuf lands are under Area B (PA is in charge of civil matters with Israel responsible for security) while most of Yasuf is under Area C (Israel maintains full security and administrative control). About of 4609 dunums of Yasuf is in area C.
[1] GIS-LRC