Eviction Notice for a Plot in Haris village / Salfit governorate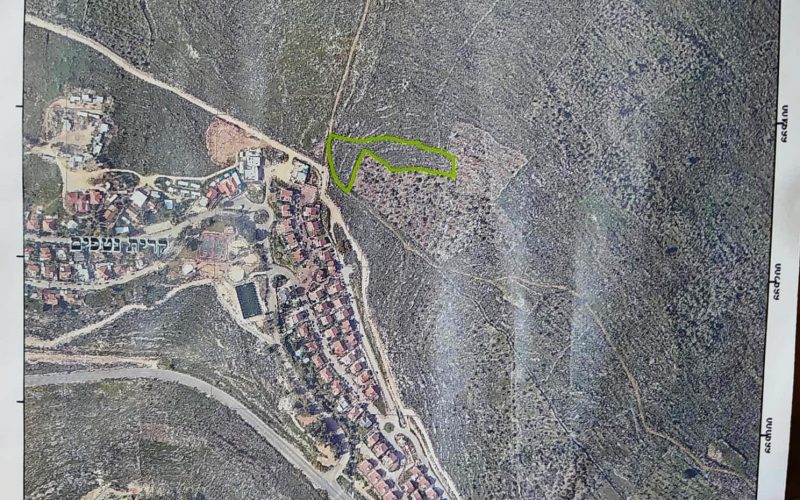 Violation: Eviction notice for a plot.
Location: Haris village / Salfit governorate.
Date: December 29th 2020.
Perpetrator: The Israeli Occupation Civil Administration.
Victims: Farmer Khaled 'Aqel.
Description:
Tuesday December 29th 2020 , The Israeli Occupation Forces accompanied by governmental properties in the Israeli Civil Administration raided Haris village in Salfit governorate, and put a military notice on a plot that belong to farmer Khalid 'Aqel from the village, the notice was numbered "001009" and ordered the eviction of a plot with a total area of 6.5 dunums , the targeted plot is in natural block 2 of At-Taiarat location , 1 km west the village and only 250 m south Revava illegal colony.
Five years ago, the owner planted the targeted plot with olives, and today he received a notice to uproot the olives within 45 day, noting that the plot contains 120 olive trees.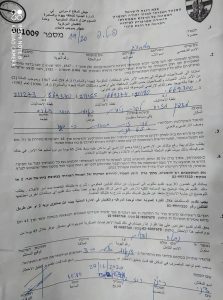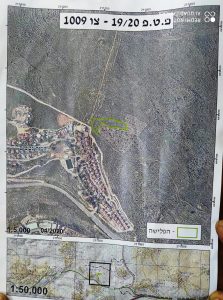 Photos 1-2: military notice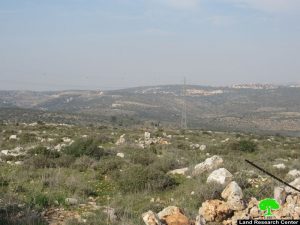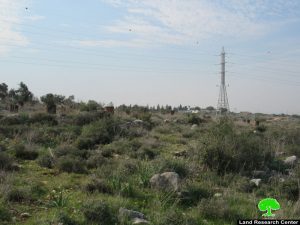 Photos 3-4: The targeted plot
The owner told LRC the following:
"Recently, our plot have been witnessing raids by Israeli illegal colonists and forces, it is obviously that they are planning to take over the land for the expansion of Revava colony. In 1985, colonists took over the same plot, so we filed an objection to the Israeli Court, and we managed to get them to evict the plot, and now as colonization is perpetuating in the West Bank , they came back to try to take over the plot once again."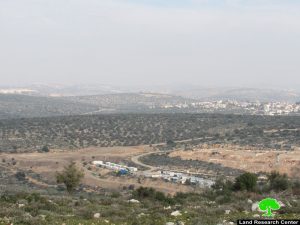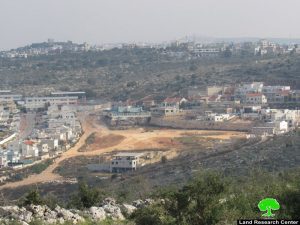 Photos 5-6: Revava colony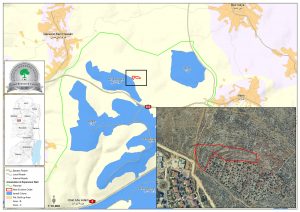 About Haris:[1]
7 km to the northwest of Salfit governorate, Haris is located with a total land area of 8769 dunum, of which 190 dunums are the village's built-up area. Haris is surrounded by the villages of Deir Istiya from the north, Kifl Haris from the east, Kfar ad-Dik and Bruqin from the southwest and Qarawat Bani Hassan from the west.
It has a total population of 3740 people according to the census of Palestinian Central Bureau of Statistics for 2009. Those people hail from the following families: Abu Atta, Dawoud, Salamih, Sultan, Shihada, Souf, Faz', Awwad, Qasim, and Klaib. The Israeli occupation confiscated 3631 dunums from the village as follows :
Israeli colonies confiscated 2672 dunums as detailed in the below table
| | | | |
| --- | --- | --- | --- |
| colony | Year of establishment | Confiscated area\dunum | Number of colonists |
| Kiryat Netafim | 1982 | 188                      | 384 |
| Revava | 1991 | 269 | 703 |
| Burkan | 1981 | 177 | 1207 |
| Burkan Industrial | 1981 | 1346 | — |
| Ariel Industrial | — | 692 | — |
| Total |   | 2672 | 2294 |
726 dunums were confiscated to open the bypass roads numbers ( 505, 4765, 5506)
The apartheid wall confiscated 233 dunums for its establishment. Upon its completion, the wall will isolate 7135 dunums
According to Oslo Accords, the lands of Haris are classified as follows:
631 dunums are classified as area "B"
7815 dunums are classified as area "C"
[1] GIS-LRC