Demolishing an agricultural facility east Yatta/ Hebron Governorate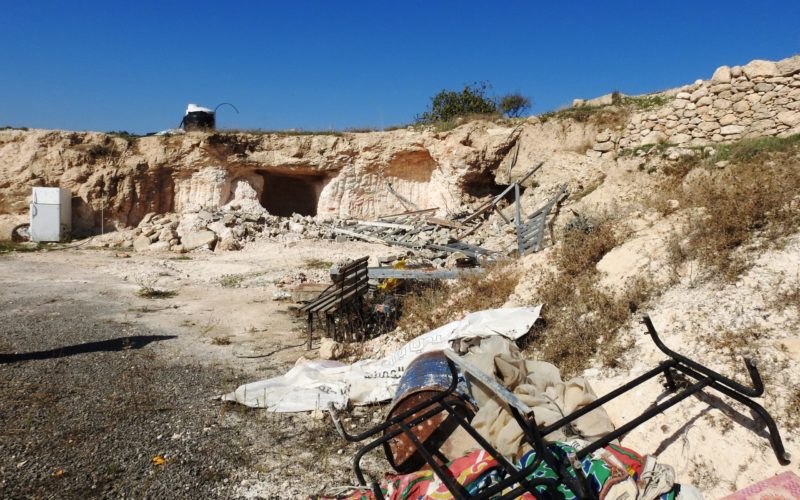 Violation: demolishing an agricultural facility and confiscating properties.
Date: Dec 1nd 2020.
Location: Zif – Yatta / Hebron Governorate.
Perpetrator: the so-called Israeli Civil Administration.
Victims: Aziz Shatat, Rami Al-Mohtaseb and Jamal Al-Qawasmi.
Description:
Tuesday, December 1st 2020, the Israeli Occupation Authorities demolished an agricultural facility that belongs to Aziz Shatat, under the pretext of building without a license in  Zif area, east Yatta, south Hebron.
Shatat (48) said that the occupation forces accompanied by border guards, the Civil Administration, workers, and a "Volvo" bulldozer stormed his land in the Zif area. The Occupation forces encircled the area, emptied the targeted facility, then leveled it to the ground. The targeted structure is reportedly 80 m2 built of metal poles and sheets; A small natural cave attached to it was also destroyed.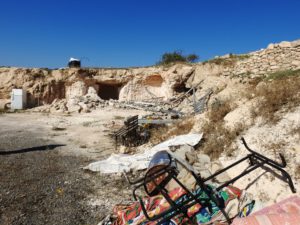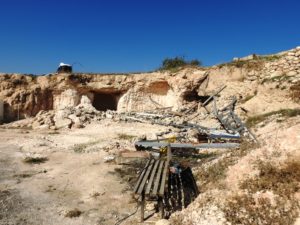 Photos 1 + 2: The facility after the demolition
Shatat owns a plot with a total area of 12 dunums , he built a small room for his family (6 members, 4 of them are children) the family spends many days working in the land so they needed a place to sleep at and keep agricultural tools during these times, constructing the room cost (30,000 Nis : about 9000 $).
On 18/11/2020, twelve days before the demolition, the occupation authorities issued a demolition notice for the facility within 96 hours, The order was issued in reference to military order (1797) for 2018. The notice was numbered 20582.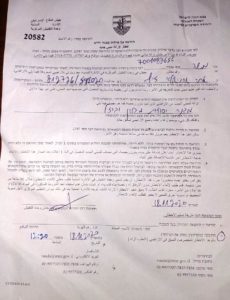 Notice No. 20582: Targets Shatat's facility with demolition and removal
After the demolition, the occupation authorities headed to a nearby plot that belongs to Rami Al-Muhtasib , and confiscated a metal container that was set up in the plot , the container was taken on a plot.
The Occupation Authorities went to Al-Buwaib east Yatta , and confiscated a metal container that belongs to Jamal Al-Qawasmi ,Al-Qawasmi's container was also taken on a truck.