The Occupation Heavily targets houses and facilities in At-Tawani south Yatta / Hebron governorate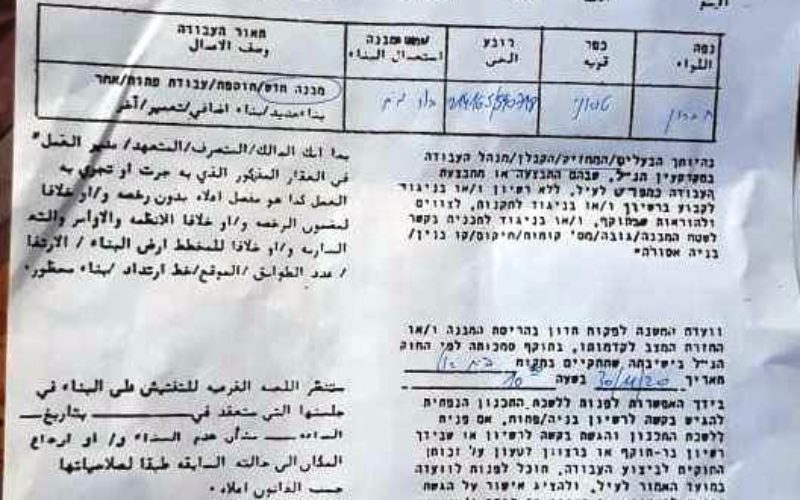 November 11th 2020 , the Israeli Occupation authorities distributed written summons in At-Tawani village south Yatta in Hebron governorate, as part of their measurements that heavily target Palestinian structures and facilities.
A vehicle from the building and organization department in the civil administration accompanied by an army force raided the village in the afternoon, and hanged notices on the targeted structures. The notices were two types:
Extending the objection period: Citizen Mohammed Issa Raba'e received two notices of this kind , stating that the occupation is going to demolish his agricultural room and cistern , and extends the objection period on the demolition for 3 days.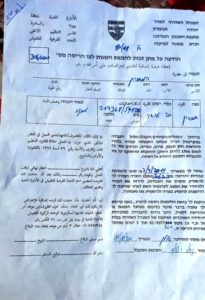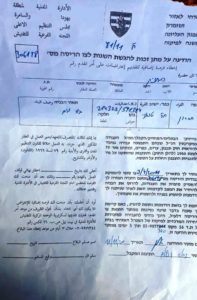 Photos 1+2: Extending the objection period
At-Tawani village council head Mohammed Raba'e, who follows objection files at his village, said that the occupation authorities issued demolition orders for these buildings in 2011, the owner applied for a license and submitted an objection, since that time , the case have been on and off in the organization committee's discussions (related to The Israeli Civil Administration) , to change land settlement from agricultural lands to construction areas .
Considering the complications in preparing a detailed outline, and hinders imposed by the occupation, the owner couldn't prepare a detailed outline to apply for a license , the occupation authorities issued a notice to extend the objection period for 3 days , we headed to the central court to freeze the demolition order until preparing an outline.
Noteworthy  , the targeted structure is an agricultural room built of steel sheets with a total area of 40 m2 , and a water harvesting cistern , the owner had built in At-Tawani village.
Summons: The Occupation authorities issued summons also to give an objection period extendion for 19 days.
Citizen Fadel 'Amour received a summon stating that the inspection subcommittee in the civil administration in November 30th 2020 will have a session to discuss demolishing a building he owns that was also notified in 2020.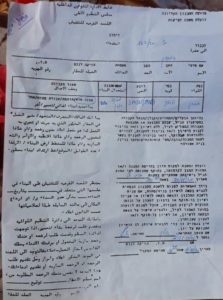 Photo 3: Summon for citizen Fadel Al-'Amour
In June 30th 2020, Al-'Amour Received a halt of work notice for an agricultural room built of stones and mud with a steels sheets ceiling , and a total area of 20 m2.
Citizen Ashraf Al 'Amour Received a summon stating that the objection period for the notices have been extended, the notices target an agricultural room and a small residence belong to Ashraf , who had received halt of work notices in June 30th 2020 , and didn't manage to file an objection.
Citizen Ashraf Al-'Amour owns an under construction cistern , and a house with a total area of 100 m2, inhabited by a family of 10 , 8 of them are children.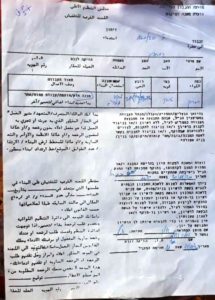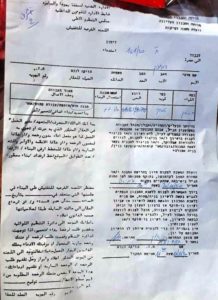 Photos 4+5 : Summons for citizen Ashraf Al-'Amour
About At-Tawani :
At-Tawani village is located to the south of Hebron city in West Bank, it is only 20 km away from Yatta , and has a population of 250 people. At-Tawani is administrated by a village council, and the village contains a clinic , mosque and school to the eighth class. At-Tawani depends on rainwater for drinking an electricity generator to lighten the village. Surrounded by four settlements and a bypass road , At-Tawani is one of the most vulnerable villages.