House demolition in Jabal Jawhar, south Hebron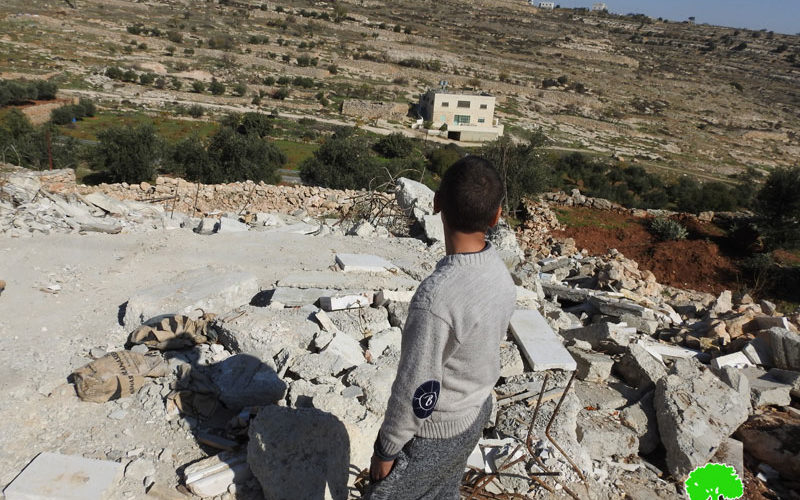 Violation: demolishing a house.
Violation date: Nov 25th 2020.
Location: Jabal Jawhar – Hebron.
Perpetrator: the so-called Israeli Civil Administration.
Victims: citizen Sa'ad Idris.
Description:
Wednesday, November 25, 2020, the Israeli occupation authorities demolished a house belongs to  Sa'ad Idris, on the pretext of building without a license in Jabal Jawhar, south of Hebron.
Idris (32) told Land Research Center:
"A massive army force,  accompanied by vehicles and employees from the Planning and Building Department in the Israeli "Civil" Administration, and two "Hyundai"   bulldozers raided Jabal Jawhar area, at 5:00  PM, and they reached the "Khallet Al-Natsh" area, where the house is built."
The Israeli Occupation forces surrounded the house, and the Occupation bulldozers leveled it to the ground, 3 olive trees were uprooted during the process.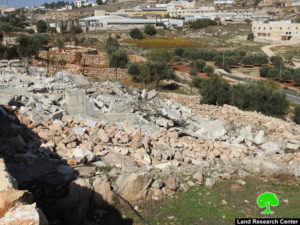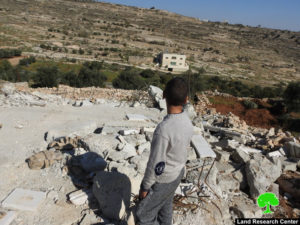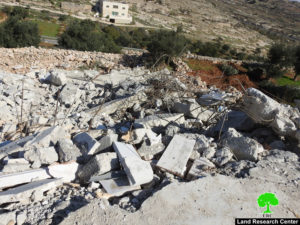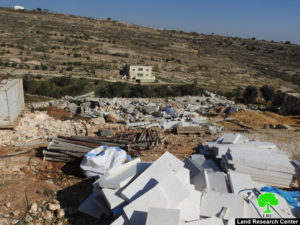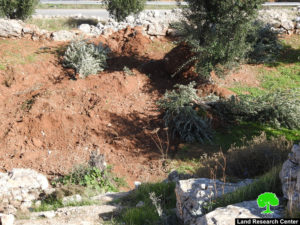 Photos 1-5: The rubble of the house of Saad Idris
The targeted house has a total area of 220 m2,  It is composed of two floors and built of stone and concrete – the first floor is 90 m2, and the second floor is un- roofed with an area of ​​130 m2.
Idris supports a family of 5, including 3 children, and is currently living in his father's house. He had decided to build a house to give his family an adequate home, but the occupation authorities put an end to his dream, his losses reached about 150,000 NIS (42,000 $).
Idris asserted: In Nov 2nd 2020,  the occupation authorities issued a notice entitled "Demolition and removal of a new building"  number (10318),  and a car belongs to the so-called Planning and Building Department in the "Civil Administration" raided the area, and an officer hanged the notice on the Wall.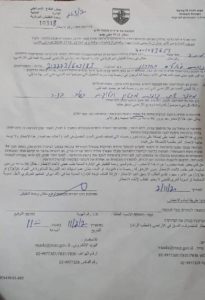 Copy of the notice No. 10318 ordering the demolition and removal of the house
It should be noted that the bypass road 60 is about 500 meters away from the demolished house , while parts of the settlement of "Kiryat Arba" and its industrial zone are only 200 meters away from the same street.
The occupation authorities ordered to demolish and remove the building within 96 hours, the notice was issued based on Military Order No. (1797) for 2018, which targets new, uninhabited and unfinished buildings within 6 months from the start date of the construction work.