Colonists sabotage 400 olive Saplings in Turmus'ayya \ Ramallah governorate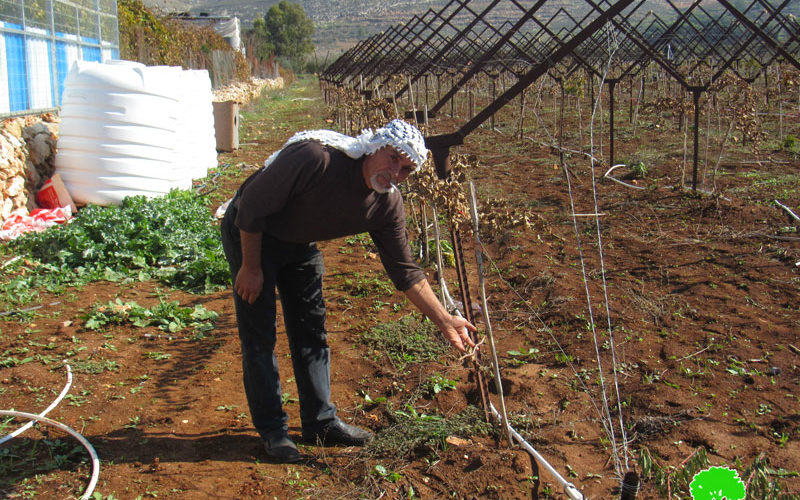 Violation: Sabotaging 400 olive saplings and vandalizing the properties of Palestinian farmers.
Location: Turmus'ayya \ North Ramallah city.
Date: November 27th 2020.
Perpetrators: Colonists of Ad-Dhaherat area.
Victims: Farmers Nidal Rabe'a and Rajeh Jubara.
Description:
A group of colonists escalated their attacks against Palestinian farmers in Turmus'ayya  lands. Colonists of an outpost at Ad-Dhaherat area have been carrying out frequent attacks against farmers and farmlands.
Recently , at the early morning hours of Friday November 27th 2020 , a group of colonists sneaked to a vineyard belong to farmer Nidal Rabe'a who supports a family of (3) (area 4300)m2 ,  and carried on sabotaging 400 grapes trees.
Photos 1-4: The targeted vineyard
Farmer Nidal Rabe'a told LRC:
"The targeted yard is a source of income for my family during these difficult times , my health conditions prevent me from getting a stable job , and I've been watching my trees growing day by day , I've been waiting for the trees to grow and provide some money for my family , but colonists deprived us from our source of income."
After the attack , colonists went to an olive grove that belong to citizen Musa Jbara , who supports a family of 12 and owns a 6500 m 2 grove , then carried on cutting 7 olive trees aging 5 years old , in addition to destroying outdoor bathrooms and a wood room nearby the grove, then withdrew.
Photos 5-10 : A farm belongs to Rajeh Jbara
This is the second attack of this kind on these farmlands , in November 10th  , colonists carried out an attack that targeted both plots , represented in cutting sieges, looting water tanks, and more than 500 m of water lines , the owners filed a complaint to the Israeli police , but nothing was done to stop the attacks.
About Turmus'ayya:[1]
25 km to the north east of Ramallah city, Turmus'ayya  has a population of 2464 people (2017 census) most of them belong to two measure families : Awad and Jbara, In addition to other small families who located themselves in the town after 1948 : Shalabi, Kouk and Hezmawi.
Its total land area is 18139 dunums,2464 of which 1350 dunums are considered built-up area. About 11218 dunums of  Turmus'ayya lands are classified as  Area B (PA is in charge of civil matters with Israel responsible of security) where 6921 dunums are classified as  Area C (Israel maintains full security and administrative control).
The Israeli occupation confiscated vast areas from the village for the benefit of the following colonies:
Shilo and Mizpe Rahel devoured 1023 dunums
Mizpe Rahel  devoured 706 dunums
The bypass road number 60 stole 12.5 dunums
[1] GIS-LRC