Colonists carry out Vandalisms and Lootings in Turmus'ayya / Ramallah governorate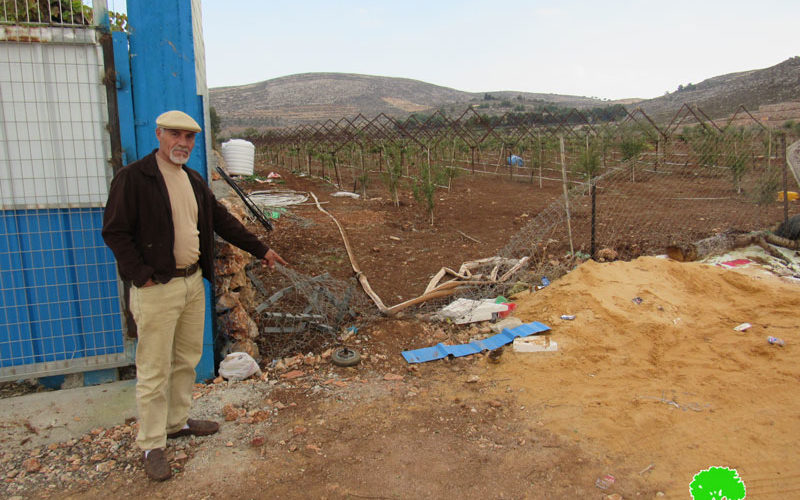 Violation: Colonists vandalize Palestinian properties.
Location: Turmus'ayya town / north Ramallah city.
Date: November 10th 2020.
Perpetrators: The new outpost north the town.
Victims: Farmers Nidal Rabe'a and Reajeh Jubara.
Description:
The Israeli Occupation through the new outpost built at Ad-Dhaherat area north Turmus'ayya continues its attacks against Palestinian farmers , specially throughout daily raids to Palestinian farmlands which.
Tuesday, Nov 10th 2020, a group of colonists raided farmlands in Khallet Sbaiha , and carried on destroying properties and looting agricultural tools.
At first, colonists cut a metal siege that surrounds an agricultural land belong to farmer Nidal Rabe'a who supports a family of (3) , then sneaked into his (4300m) farm and cut 3-4 inches water pipes , then loot 500 m of a water network , and 11 water mains , two plastic tanks with a storage capacity of (1.5 m3) for each , which affected the trees that on this water supply.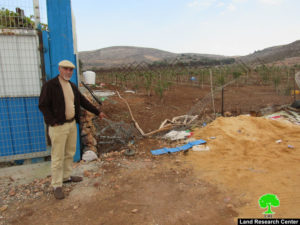 Photos 1-3: the targeted plot following the attack
After the attack , colonists went to a plot belong to Rajeh Jbara who supports a family of 12 , and cut a metal siege that surrounds a (6500 m) plot , where they looted agricultural tools such as : wood saw,  water motor , electric saws for cutting trees , 7 plastic chairs , tires of a water tank with a total area of 4m3 , before withdrawing .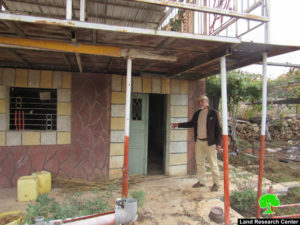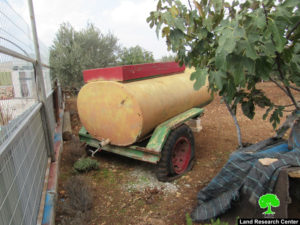 Photos 4-5: Rajeh Ibrahim's farmland
One of the affected citizen filed a complaint to the Israeli police , but the police didn't open an investigation.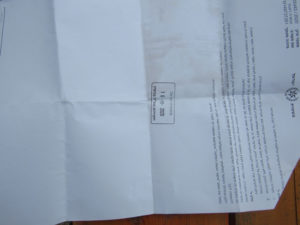 One of the eyewitnesses on the attack 'Imad Abu Zahra from Turmus'ayya told LRC:
"In the afternoon, colonists in a white truck raided the area and carried out the attack in a very short time . The attack took place at the time a wedding was at the town, so none of the farmers was at the area, and colonists took advantage of that."
Reportedly, colonists' attack in Turmus'ayya are notably increasing, most of them were represented in looting and sabotaging saplings , in addition to terrorizing farmers and depriving them from their natural right to use their lands.
About Turmus'ayya:[1]
25 km to the north east of Ramallah city, Turmus'ayya  has a population of 2464 people (2017 census) most of them belong to two measure families : Awad and Jbara, In addition to other small families who located themselves in the town after 1948 : Shalabi, Kouk and Hezmawi.
Its total land area is 18139 dunums,2464 of which 1350 dunums are considered built-up area. About 11218 dunums of  Turmus'ayya lands are classified as  Area B (PA is in charge of civil matters with Israel responsible of security) where 6921 dunums are classified as  Area C (Israel maintains full security and administrative control).
The Israeli occupation confiscated vast areas from the village for the benefit of the following colonies:
Shilo and Mizpe Rahel devoured 1023 dunums
Mizpe Rahel  devoured 706 dunums
The bypass road number 60 stole 12.5 dunums
[1] GIS-LRC