During the Olive harvesting season, Colonists looted olives from an olive grove in Ein Yabrud / Ramallah Governorate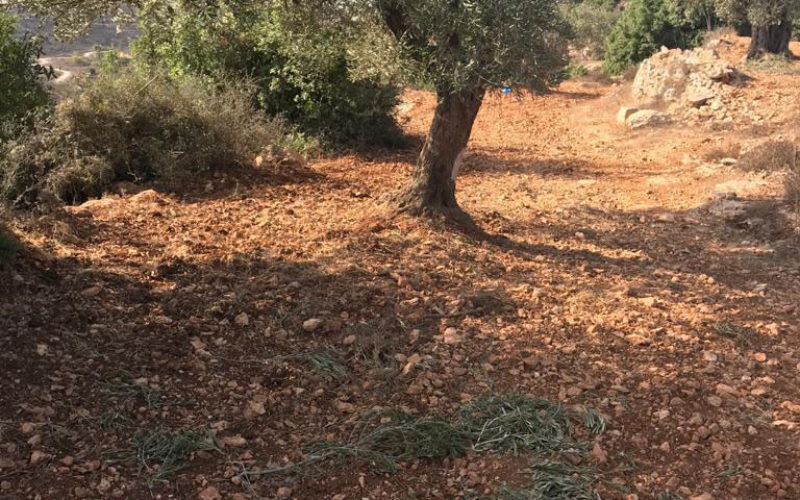 Violation: Looting the olive harvest.
 Location: Ein Yabrud village, north Ramallah.
Date: October 6th 2020.
Perpetrator: "Beit El" colonists.
Victims: Three families from the village.
Description:
Tuesday morning, October 6th 2020, a group of Beit El colonists sneaked into a Palestinian olive grove in Khallet Karateesh southwest the village of Ein Yabrud and began to harvest and loot olives using special harvesting tools and vehicles to take the crop later to the colony. Noteworthy, Beit El was built on confiscated lands from Ein Yabrud, north Ramallah during the seventies of the last century. The targeted olive grove is located about 800 meters away from the illegal colony.  A number of the village farmers reported that they found colonists looting the olive harvest from their land under the protection of the Occupation army.
According to the records of the Directorate of Agriculture in Ramallah and Al-Bireh Governorate, the harvest of 60 olive trees was stolen, from a 35 dunums olive grove, and they belong to: Farid Musa Alwan (9 trees), Khair al-Din Alwan (43 trees) and Ragheb Alwan (8 trees).
Farmer, Khair El Din Alwan (56 years) told LRC the following:
"I own a plot located 800 meters away from "Beit El" colony, I am used to work in my land on a daily basis without a prior coordination, and my house is only 1 Kilometer away from the plot.  In the early morning hours of Tuesday, I saw a group of colonists harvesting olives from my trees under the protection of the occupation forces. I gathered with other farmers to file a complaint to the Occupation Police station in Beit El illegal colony, but all our efforts were in vain as the occupation police are trying to change facts in favor of the colonists and cover up the colonialists' continuous assaults against us."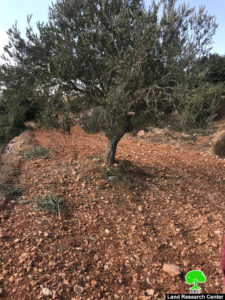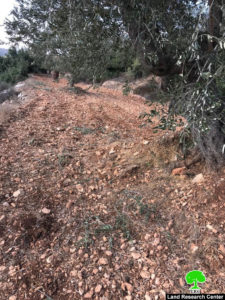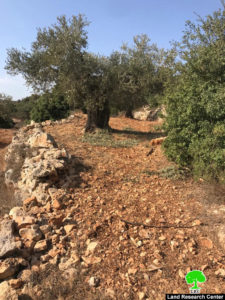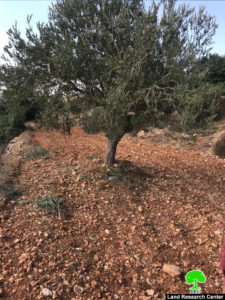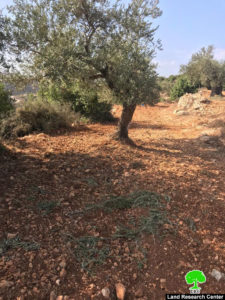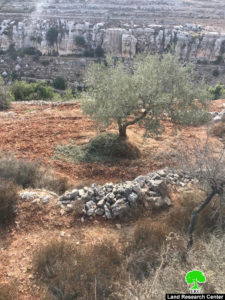 Ein Yabrud village Council head told LRC:
"This attack is not the first of its type, rather, it is repeated every year at the olive harvest season, and each time the affected farmer tries to file complaints against those colonists who, by the way, are known to the Israeli police, but, unfortunately, the Israeli police is complicit with them ".
About Ein Yabrud:[1]
6 km north east Ramallah , Ein Yabrud is bordered by Silwad (north), Dura Al-Qare'a (west) , At-Taiba and Ramon (east) and Deir Dibwan and Betin (south).
Deir Dibwan is populated (2515) people in 2017 census.
Dei Dibwan has a total area of (11,401) dunums, (1,177) are the town's built up area.
1: Israeli settlements devoured about (1563) dunums, for the following purposes:
| | | | |
| --- | --- | --- | --- |
| Settlement name | Establishment year | Confiscated lands in dunums | Number of settlers |
| Beit El | 1977 | 135 | 4627 |
| Ofra | 1975 | 1,428 | 2214 |
Bypass 60 devoured about (283) dunums.
Osslo accords divided the land as the following:
B area (4,010) dunums.
C area (7,391) dunums.
[1] GIS-LRC