The Israeli Occupation Opens an Artesian well in Khirbet Tana / Nablus governorate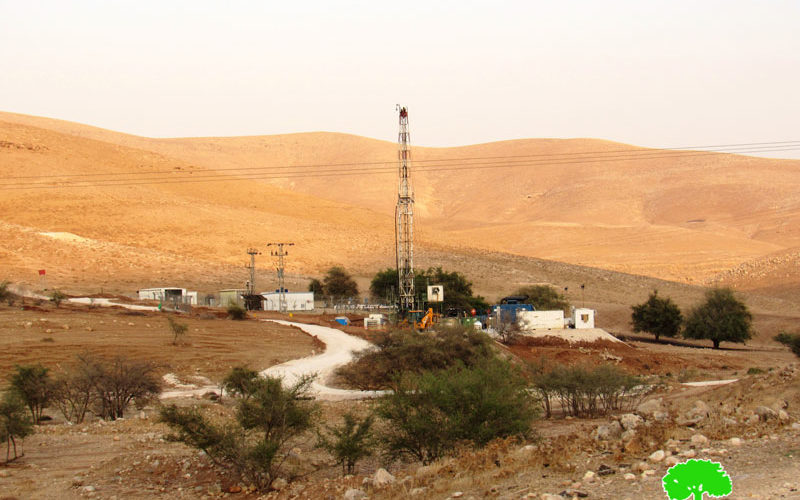 Violation: digging an artesian well.
Location: The Jordan Valley area east Khirbet Tana/ Nablus governorate.
Date: September 10th 2020.
Perpetrators: Israeli national water company "Mekorot".
Victims: Rural communities at the Jordan Valley.
Description:
The Israeli National Water company carried out excavation works for new artesian well in Khirbet Tana , The Khirbet is located to the east of bypass Alon which also eats up vast area of lands at the Jordan Valley.
Photos 1+2: The new artesian well
Reportedly, the Israeli Occupation brought a machinery to carry out excavations, and a caravan was set up at the location which reflects the occupation's intention to take over the area. Noteworthy, the targeted lands serve as postures.
This new violation imposes a threat on lands, water and people , the area is inhabited by number of rural communities that depend mainly on cattle breeding for living , and in case an artesian well was opened at the area, not only that Israel will control underground water , but they will also close postures and impose restrictions , it is estimated that 450 dunums will be closed in case the project was implemented.
The Israeli Occupation policies on water:
 Since Occupying the Palestinian territories in 1967, the Israeli Occupation authorities issued many Laws and military orders that aim to take over water resources in the West Bank, these laws deprived Palestinian citizens from their natural right to water, and allowed Israel to freely use Palestinian water resources.
In October 1st 1967, Israel issued a military order to place all water resources such as cisterns, springs, water project under the direct control of Israeli military governor of West Bank, followed by a law stating that all water resources in the Palestinian occupied territories belong to the Israeli state according to an Israeli law issued in 1959. 
Moreover, Israel issued number of laws between 1970 -1974 that sets boundaries to water consumption allowed to Palestinian wells-owners , to not exceed 100 m3, and ban digging new water harvesting cisterns for agricultural usage , impose more restrictions , ban digging cisterns deeper than 120 -140 m , and depriving the Palestinians from their right to use the Jordan river water. In addition, Israel built up about 70 % of its illegal colonies over the eastern water basin.
Israeli laws also allowed colonists to loot large quantities of Palestinian underground water, there are about 50 artesian wells in Israeli illegal West Bank colonies that provide high quality water for Israelis.
Israel imposed tight restrictions on Palestinian municipalities to limits developing water resources in Palestinian villages and cities. Nevertheless, about 150 Palestinian communities in West Bank are not connected to a water network, and suffer from water shortage.
In 1997, two Israeli military resolutions were issued , the first one states that all water resources in occupied territories belong to Israel , while the second gives the Israeli army commander the authority to control all water related issues.
Digging water cisterns is allowed for Israelis, and banned for Palestinians:
At the time Israel provides facilitations to settlers to extract underground water, Palestinians are banned from building water harvesting cisterns. During the last 12 years (Between 2008-2019) , The Israeli Occupation forces and colonists destroyed more than (724) cistern, pool , reservoirs , of which 218 were destroyed under the pretext of unlicensed construction in C area , the cisterns used to provide water for (13871) dunums of farmlands.
The following table shows detailed information and numbered about destroyed water reservoirs between (2008-2019) – by governorate:
| | | | | | | | |
| --- | --- | --- | --- | --- | --- | --- | --- |
| governorate | cisterns | reservoirs | pools | springs | Artesian wells | Destroying / confiscating tanks | total |
| Jerusalem | 10 | – | 1 | 1 | – | 16 | 28 |
| Hebron | 162* | 20 | 53 | 4 | 1 | 7 | 247 |
| Bethlehem | 22 | – | 4 | 6 | 0 | – | 32 |
| Ramallah | 3 | 4 | 1 | 4 | 1 | 11 | 24 |
| Jericho | 10 | – | 4 | 12 | 2 | 31 | 59 |
| Nablus | 12 | 12 | 10 | 5 | 2 | 17 | 58 |
| Salfit | 16 | – | 1 | 5 | – | 3 | 25 |
| Qalqilya | 5 | – | 8 | – | – | 7 | 20 |
| Tubas | 13 | 8 | 5 | 24 | 9 | 119 | 178 |
| Tulkarm | – | – | – | 2 | – | 3 | 5 |
| Jenin | 9 | – | – | 5 | 30 | 4 | 48 |
| total | 262 | 44 | 87 | 68 | 45 | 218 | 724 |
Source: Firsthand field observation – Israeli Violations monitoring section – Land Research Center – Arab Studies Society, Years 2008-2019
*47 were partially destroyed