Israeli Occupation Forces set 13 agricultural dunums ablaze in Qalqilya governorate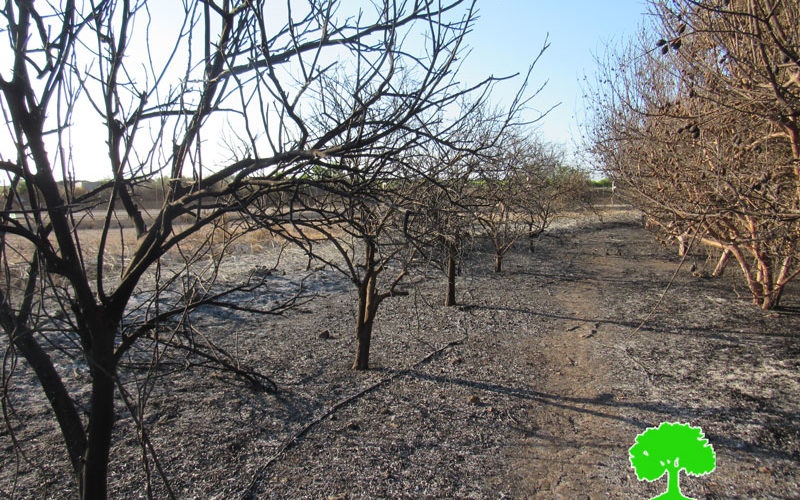 Violation: setting fire to trees
Location: Hableh village- Qalqilya governorate
Date: August 05, 2020
Perpetrators: Israeli Occupation Forces
Victims: four Palestinian farmers
Details:
It is reported that an Israeli Occupation Force raided on August 05, 2020 some agricultural lands located nearby the apartheid wall, west Hableh village in Qalqilya governorate and fired stun grenades at some agricultural lands, causing them to set ablaze. The incident was justified on the claim that the force wanted to ban Palestinian workers from sneaking into the border of the so-called state of Israel.
The fire was reported to spread to the nearby groves, rendering tens of citrus and guava trees to be completely burned down. Several irrigation networks were also damaged.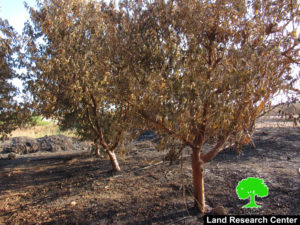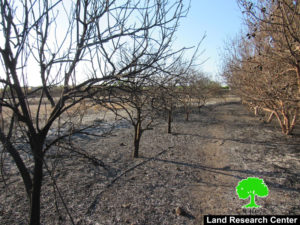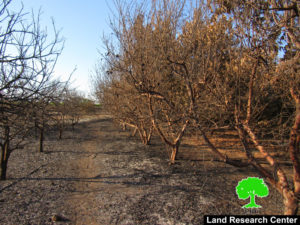 Photos 1-3: sings of the burned trees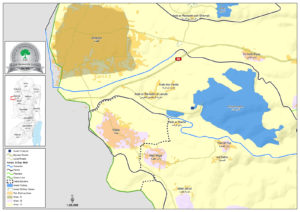 According to Hableh municipality, the occupation force hindered the fire department from reaching out for the fire for an hour on the claim that there was no prior coordination. 
The following table details the damage that followed the area:
| | | | | | |
| --- | --- | --- | --- | --- | --- |
| Affected citizen | Total area ofland | No. of affected trees | Type of tree | Nature of damage | Irrigation network |
| Ahmad Oudeh | 7 | 106 | 100 lemon trees and 15 guava trees | Total | Damage followed a 150 m *3inch network and a 400m*2.5-inch network |
| Mustafa Oudeh | 5 | 62 | 60 citrus trees and 2 walnuts trees | Total | Damage followed a 100 m *3inch network and a 600m*2.5-inch network |
| Yousef Oudeh | 1 | 6 | 6 citrus trees | Partial |   |
| Total | 13 |  174 |   |   |   |
Source: In-field investigation- Department of Monitoring Israeli Violations- Land Research Center-2020
 The affected farmer Ahmad Oudeh told Land Research Center the following:
 "We have been witnessing recurrent violations from the Israeli military on several claims. Every time, our lands get affected and the crops die as a result. I think that setting our land on fire was on purpose, the occupation authorities want to ban citizens from using their land so that they can confiscate them. The trees that were killed were our source of income that supports my nine-member family. Now I am lack any source of livelihood.
Hableh – An Overview[1]:
3 km to the south of Qalqilya , Hableh is bordered by Qalqilya (north), Wad Ar-Rasha and Ras At-Tira (Alfei Menashe) colony (east) , and Ras 'Atiya and 'Izbet Jaloud (south) , Hableh has a total population of (7057) people according to 2017 census.
Hableh has a population of 3,484 dunums , of which 630 dunums are a built up area.
The Occupation built the Annexation and Expansion Wall on the town's lands, it runs for about 5644 m long, eats up 564 dunums, and isolates 815 dunums.
Oslo accords divided the town's lands as the following:
B area: 815 dunums.
C area: 2,669 dunums.
[1] GIS-LRC