Demolishing a Bakery Shop east Araba/ Jenin Governorate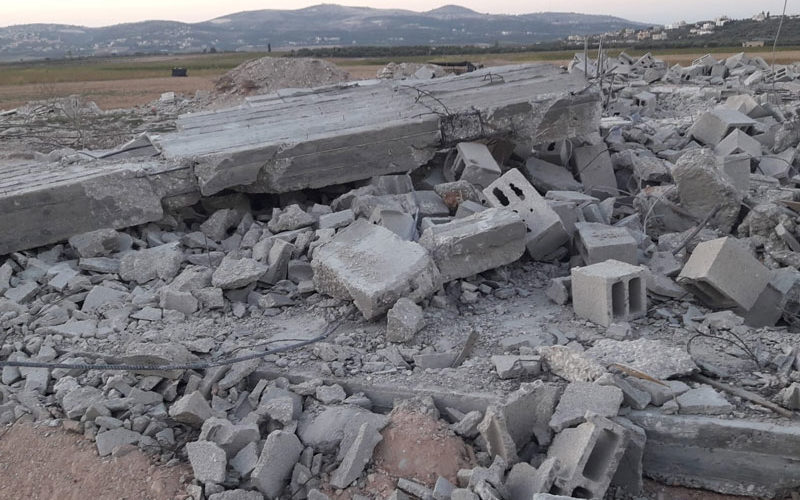 Violation: Demolishing an under construction bakery shop.
Location: Arabeh town / Jenin governorate.
Violation date: August 26th 2020.
Perpetrators: the Israeli civil Administration.
Affected person: citizen Rami Muhammad Abu Mashaikh
Violation details:
On Thursday, August 26th 2020, bulldozers of the Israeli occupation demolished an under construction bakery store located on Arabah's main road , close to the occupation military camp in Arabeh town.
The 90 m2 bakery store was built of bricks and without a roof , as it has been under construction since June 2020. It belongs to Mr. Rami Muhammad Abu Mashayekh who is a citizen of the nearby village of Fahma, and the breadwinner for a family of (6), including (3) children.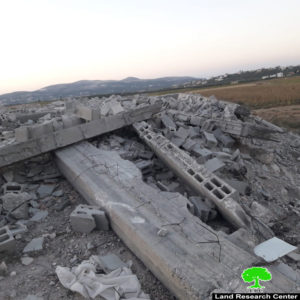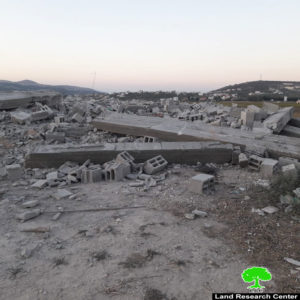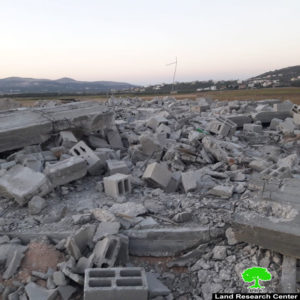 Photos 1-4: The rubble of Rami Abu Sheikhs' store demolished by the occupation
It should be noted that the affected citizen had previously received a notice to remove the building under the pretext of building without a license, as it is located in area classified (C) according to Oslo accords. The notice was entitled "An order to remove a new Structure", which was issued in reference to Military Order No. 1797.
According to the military order, "new structures" are those identified by an Israeli " Civil" Administration (ICA) inspector as having been built within the previous six months, or inhabited for less than 30 days prior to the removal notice. The only way to prevent the demolition is to produce a valid building permit or provide evidence that the targeted structure is not "new" within the meaning of the order.
The new order severely restricts the right to a hearing or the opportunity of appeal. According to the planning regulations applicable in Area C, the first enforcement measure against an unlicensed structure is a stop-work order, which gives the owner 30 days to object and try to obtain a building permit retroactively. If this fails, may issue a final demolition order, usually due for implementation within two to four weeks.
Legal Feedback:
The constringing policy by the Israeli occupation that targets Palestinians is a violation of international agreements, such as:
Article 147 of Geneva fourth convention  : extensive destruction and appropriation of property, not justified by military necessity and carried out unlawfully and wantonly. ( it is considered a serious violation of the convention)
Article 53 of Geneva fourth convention that forbids destroying properties : Any destruction by the Occupying Power of real or personal property belonging individually or collectively to private persons, or to the State, or to other public authorities, or to social or co-operative organizations, is prohibited, except where such destruction is rendered absolutely necessary by military operations.
Article 33 of Geneva fourth convention: No protected person may be punished for an offence he or she has not personally committed.