Colonists Poison Sheep in Khierbet Jib'it / Ramallah governorate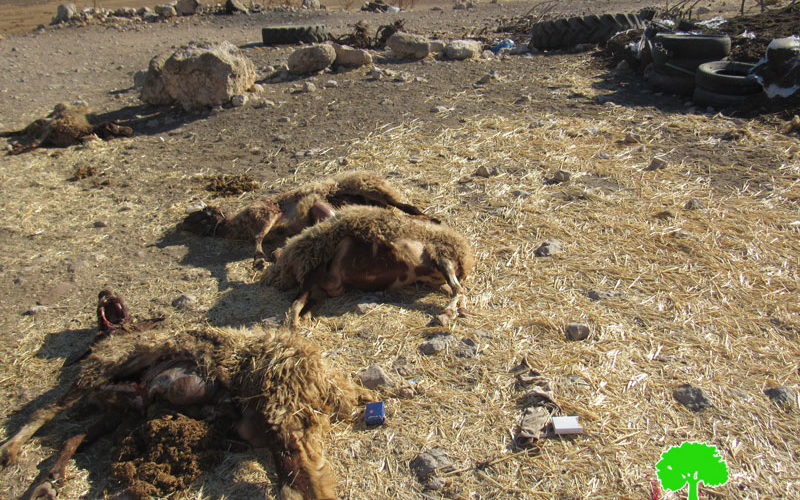 Violation: Poisoning 11 heads of Sheep.
Location: Khirbet Jib'it / Ramallah governorate.
Date: August 1st 2020.
Perpetrator: Jib'it outpost.
Victims: Farmer Fadel Abu 'Alya.
Description:
Israeli illegal colonists continue harassments and assaults that target people of the Khirbet Jib'it in Al-Mughayyir village north Ramallah.
A group of fanatic colonists sprayed postures with poisoning chemicals , which resulted in poisoning 11 heads of sheep later died in Saturday August 1st , noting that the targeted sheep belong to Fadel Abu 'Alya from Khirbet Jib'it.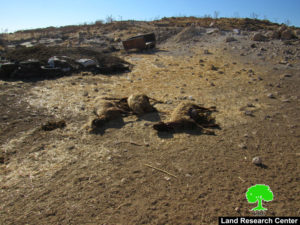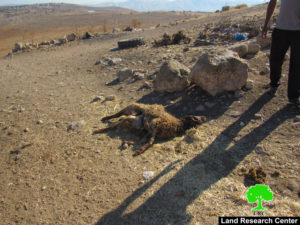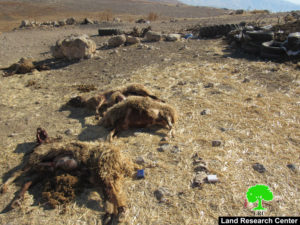 Photos 1-3: The Poisoned sheep
The Owner told LRC:
"I support a family of 9 people, and I have been living in Khirbet Jib'it for more than 15 years, I depend mainly on cattle breeding for living , since establishing the outpost three years ago we have been suffering from daily harassments , the occupation forces even looted residential tents I own , people of the community were even prohibited from using cisterns east the community , and colonists stole lambs last April, most recently they poisoned 11 heads of sheep (about 20,000 shekels)."
Noteworthy, This is the second case of poisoning to be recorded this week . Reportedly, 60 heads of sheep were poisoned in Al-'Auja nearby Ne'ama colony in that area.
Al-Mughayyir village council head Faraj Na'asan told LRC:
"Colonists gangs failed to displace Palestinian farmers in Al-Auja , so they created new ways to make their lives harder , represented in poisoning postures and stealing sheep that are their only source of income , while the occupation forces on the other hand demolish houses and tents , close postures , and confiscate water reservoirs , and colonists steal agricultural tools , poison postures and cut trees , in order to force people of the area to leave their land for colonialism."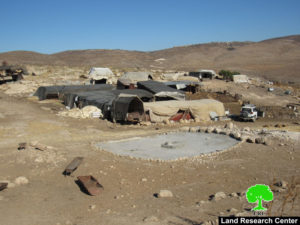 Photo 4 : Khirbet  Jib'it
It is noteworthy that the "Khirbet Jib'it" area is located to the east of the village of Mughayyir in the Ramallah and Al-Bireh governorate, where citizens depend on agriculture and cattle breeding for living. The community's 56 citizens originate from the village of Al Mughayer, specifically from the Abu Alia family. They have official documents confirming their ownership of the land in which they had been living for 50 years. Since the evacuation of the Jib'it military camp by the Israeli army about three years ago,  colonists have begun to seize the camp's land to establish a colonial outpost there. Since then, colonialists have carried out attacks against sheep herders and farmers, with the aim of preventing them from using their land, and, eventually, rmpty the area for future colonial expansion.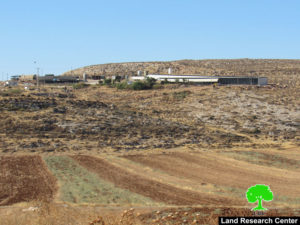 Photo 5: an outpost built in Jib'it