The Occupation demolishes an agricultural facility in Beit Mirsim West Hebron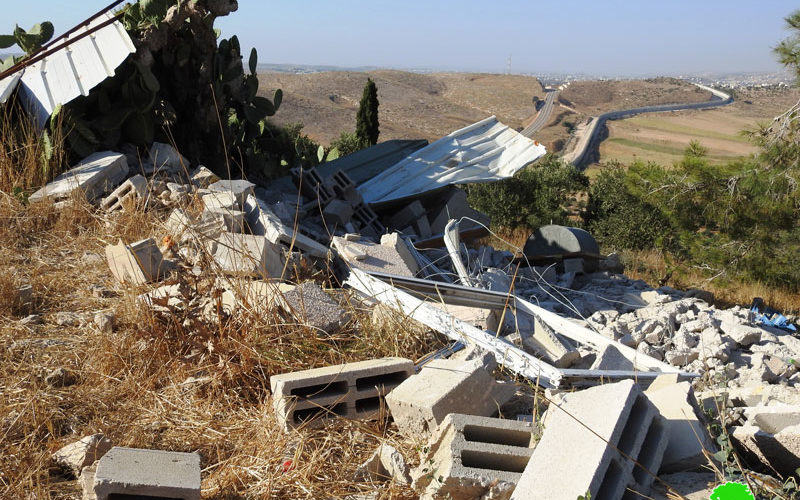 Violation: Demolishing an agricultural facility.
Date: July 15th 2020.
Location: Beit Mirsim – Dura town / Hebron governorate.
Perpetrator: the Israeli Occupation Civil Administration.
Victims: Mohammed Abu Znaid.
Description:
Wednesday, July 15th 2020, the Occupation Authorities demolished an agricultural facility on the pretext of building without licenses in Beit Mirsim west Hebron.
About 9:00 am, a massive army force accompanied by the building and organization officer in the civil administration and a JCB bulldozer raided the area and surrounded the targeted agricultural facility, which belongs to Mohammed Abu Znaid , and implemented the demolition.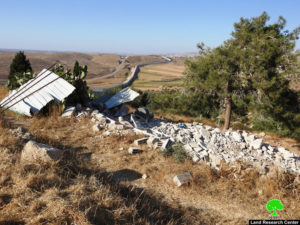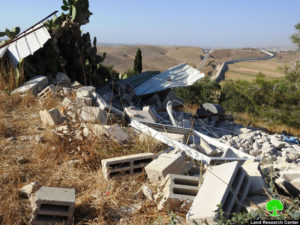 Photos 1+2: Demolishing a room belongs to Abu Znaid
Abu Znaid owns a 4 dunums plot in the area, on which he built an agricultural facility in 2019; it is composed of 1 room attached by a bathroom and built of bricks and zinc sheets with a total area of 60m2.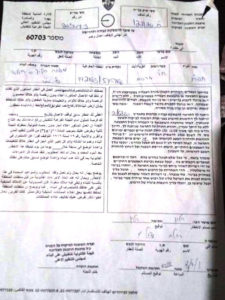 Photo 3: Final halt of Work and Demolition notice
Abu Znaid said that the construction of this facility cost about 24,000 Shekels, and asserted that in July 3rd 2020 , the occupation forces hanged a "Final halt of Work and Demolition notice"  on the targeted structure, under which the owner was given only 7 days before carrying out the demolition.