The Occupation Demolishes an Agricultural Facility east Halhul/ Hebron Governorate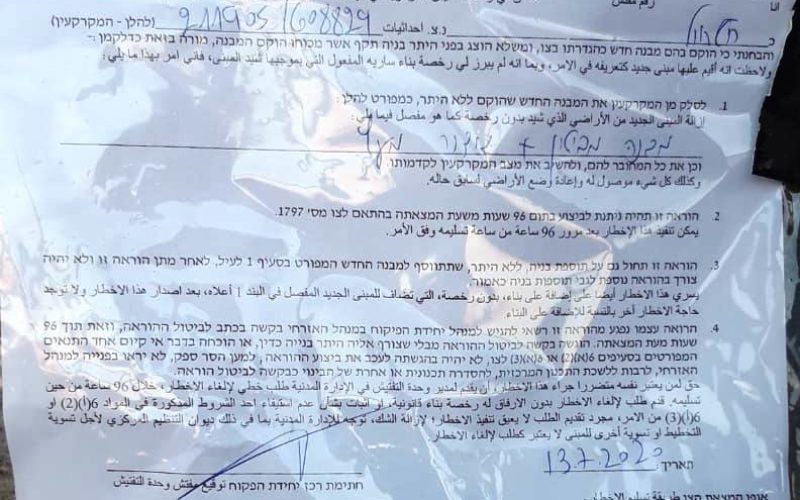 Violation: demolishing an agricultural facility.
Date: July 20th 2020.
Location: Dhahr Al-Hawa – Halhul Town / Hebron Governorate.
Perpetrator: the so-called Israeli Civil Administration.
Victims:  Citizen Fuad Al-Shamisti.
Description:
Monday, July 20th  2020, the Israeli occupation authorities demolished an agricultural facility belong to Fuad Al-Shamisti, under the pretext of building without a permit, east Halhul, north Hebron.
Al-Shamisti told Land Research Center:
"An army force accompanied by the so-called Organization and Construction Department in the Civil Administration, a JCB bulldozer, and number of workers from an Israeli civil company had raided the Dhaher al-Hawa area, northeast Halhul, and reached his land. Once the site has been surrounded with soldiers, the bulldozer began to demolish the facility (an agricultural room).
Al- Shamisti owns a 7 dunums plot , which he got reclaimed and planted with trees. The land contained ruins of an old room ,Al Shamisti had got it rebuilt with wood and mud and roofed (50 m2).  The room was used as a service and rest room.  Following the demolition,  the owner found a notice in the rubble  entitled  "Notice to remove a new building" and bore the date 13/07/2020, in which it stated that the occupation authorities would implement the demolition order after 96 hours from the date of issuance.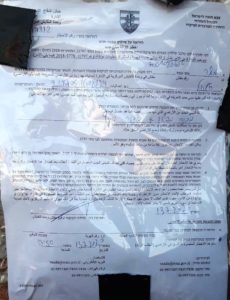 Attached picture: Notice of Demolition for Al-Shamisti room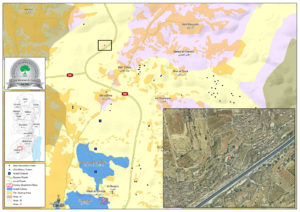 Noteworthy, the occupation authorities referred to military order (1797) for 2018 , in issuing such notices , which allows the Civil Administration's building and organization department to demolish a newly constructed building within only 96 hours.
The Occupation's court refuses objections on such orders, and recommends carrying out the demolition in soonest possible time.
About Halhul:[1]
It is 7km north Hebron city and is around 36,849  dunums in area; 9000 dunums of which are built up area where the rest is planted with grapes, peach and almond trees. The town is 1027 m above sea level and is considered the highest point in the West Bank. It has a total population of 27,031 people (Palestinian Central Bureau of Statistics 2017) 
The occupation confiscated (847.5) dunums for the following purposes:
"Karmei Zur" settlement devoured 116 dunums when it was established in 1984.
Bypasses 60 and 35 devoures 698 dunums.
Military camps devoured (33.5) dunums.
Oslo convention divided Halhul lands to 3 areas:
Area A: (4,165) dunums.
Area B: (21,899) dunums.
Area C: (10,785) dunums.
Legal Feedback:
Targeting Palestinian structures is a violation of international conventions and agreement such as:
Article 147 of Geneva fourth convention: extensive destruction and appropriation of property not justified by military necessity and carried out unlawfully and wantonly. ( it is considered a serious violation of the convention)
Article 53 of Geneva fourth convention that forbids destroying properties: Any destruction by the Occupying Power of real or personal property belonging individually or collectively to private persons, or to the State, or to other public authorities, or to social or co-operative organizations, is prohibited, except where such destruction is rendered absolutely necessary by military operations.
Article 33 of Geneva fourth convention: No protected person may be punished for an offence he or she has not personally committed.
[1] GIS-LRC