Removal Notice for an Agricultural Facility on the pretext of Building without a License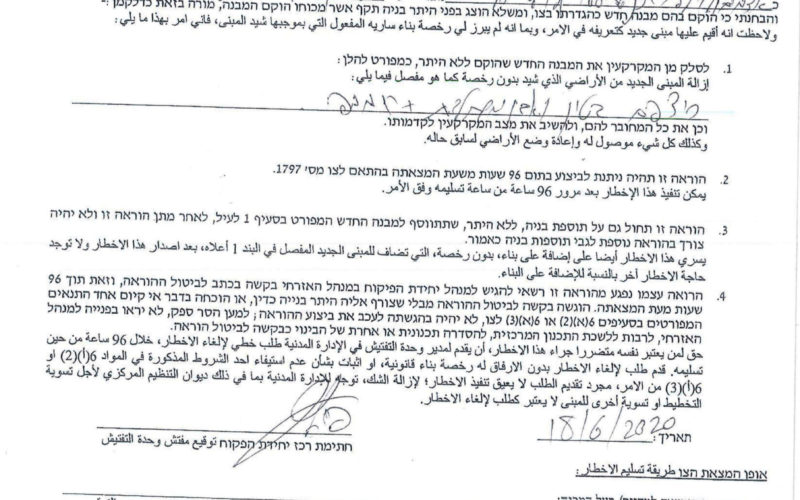 Violation: Halt of work notice "within 96 hours" for a structure.
Location: Qalqilya city.
Date: June 18th 2020.
Perpetrators: The Israeli Civil Administration.
Victims: Citizen Abdullah Yaseen.
Description:
Thursday morning , June 18th 2020 , an army force accompanied by the building and organization department in the Civil Administration invaded the western entrance of Qalqilya , and put a notice numbered (10063) on the entrance of an agricultural structure next to bypass 5.
Notice number (10063) targets an agricultural structure belong to Citizen Abdullah Yaseen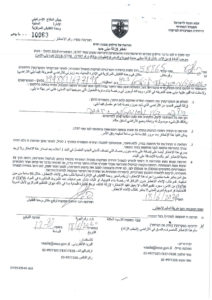 The notice orders removing a facility within (96) hours, on the pretext of building without a license, the notice was issued in reference to military order 1797 issued in 2018.
The targeted room belong to Abdullah Yaseen (23) from, from Qalqilya , and he uses it as a shop for fruits and vegetables , and has a total area of 45 m2, built in January 2020 , the affected citizen supports a family of 3 (one child)  , and the shop is his only source of income.
Military order 1797 issued in 2018 targets newly constructed buildings (built in the less than 6 months) , and allows the so called inspection officer to carry out the demolition within only four days , without giving the owner a chance to object.
According to Lawyer 'Ayed Marar head of the Legal Department in Colonization and Wall Resistance Commission told Land Research Center : " Military order 1797 was created to stop Palestinians from filing objection against military orders to  Israeli court."