Israeli Settlers cut off and kill olive seedlings in Salfit governorate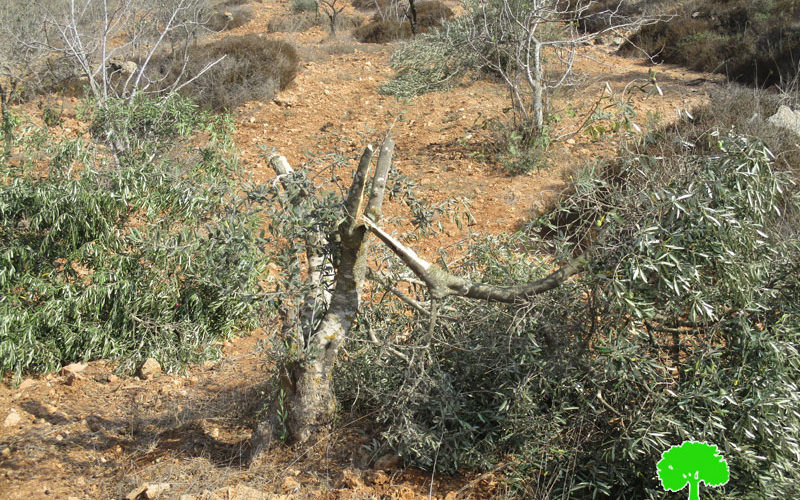 Violation: cutting off and killing olive trees   
Date:  June 9, 2020
Location: Kafr Ed-Dik village/ Salfit governorate
Perpetrators: Israeli Settlers of Bruchin
Victims: The Palestinian farmer Nafez Ahmad
Details:
It was reported that a group of Bruchin settlers broke into olive trees located in the areas known as "Khallet Ali Ahmad" and "KhalayelZahya", west Salfit governorate and cut off and sabotaged tens of olive trees. Reportedly, the trees belong to the pa;estinain farmer Nafez Ahmad (71) from Kafr Ed-Dik village.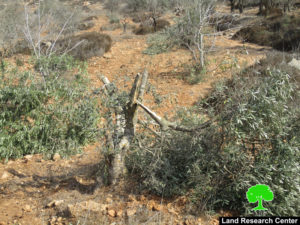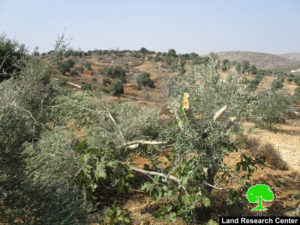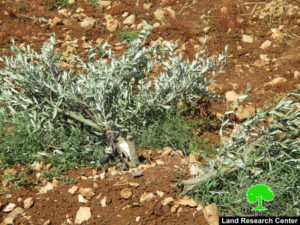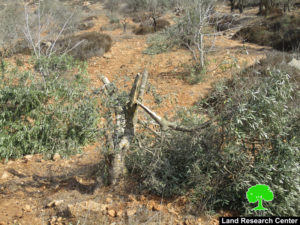 Photos 1-4: sings of the attack on the olive trees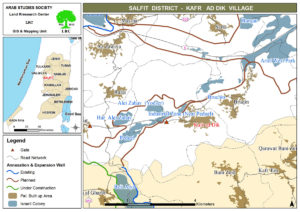 The affected farmers told Land Research Center the following:
"I was shocked to find out that ten fruitful trees were killed. I check on my land weekly; it is only 500 meters away from settlers' houses. I am always there to stop settlers' attempts to take over my lands and the neighboring ones"
He also said:
"The land I own is 19 dunums in area, it planted with 300 olive trees. This is not the first time I face such an attack, my land was ravaged and trees uprooted by settlers couple of years ago. Not only, they confiscated and annexed an area of 2 dunums to Bruchin settlement and denied me access to it.
Similar attacks of killing trees and uprooting trees were reported recurrent during 2020. Not only, Palestinian lands are being confiscated and annexed to the settlements illegally founded in the area.
KafrAd Dik [i]
KafrAd Dik is located 15 km to the west of Salfit. It is surrounded by Bidya (north), Rafat and DeirBallut (west), Bruqin and Sarta (east), and Bani Zaid villages (south). KafrAd Dik has a population of 4553 people, according to a 2007 census.  Its total area is 15529 dunums; however, it has been suffocated by bypasses and 3 Israeli colonies that lay over its lands. This has further limited its expansion knowing that it had already had a 791-dunum organizational plan (built-up area); it also isolated the village from its surroundings. The Israeli occupation confiscated 2477 dunums of Kafr Ad Dik lands for the benefit of:
Colonies devoured 1225 dunums, and they are:
| | | | |
| --- | --- | --- | --- |
| Name of colony | Year of construction | Area of confiscated land/ dunum | Number of colonists |
| Har Eli Zahav |  1983 |  134 | NA |
| Eli Zahav- Yoezer | 1982 |  290 | 424 |
| Bedoel | 1984 | 800 | 1088 |
|  Bruchin | 1999 | 1 | NA |
*Source: Field Research- Monitoring Israeli Violations Team- Land Research Centre (LRC).
Bypasses stole 362 dunums
The Apartheid Wall seized 890 dunums and isolated 8824 dunums and is expected to be 8905 long in KfaradDik lands.
Lands of Kfar ad-Dik are categorized according to Oslo Accords into lands under Area B (15% of the lands) and lands under Area C (85% of the lands).
i] Source: Geographic Information System- Monitoring Israeli Violations Team- Land Research Center