Demolition and confiscation of vegetable stalls in the northern Ghur Valley / Tubas Governorate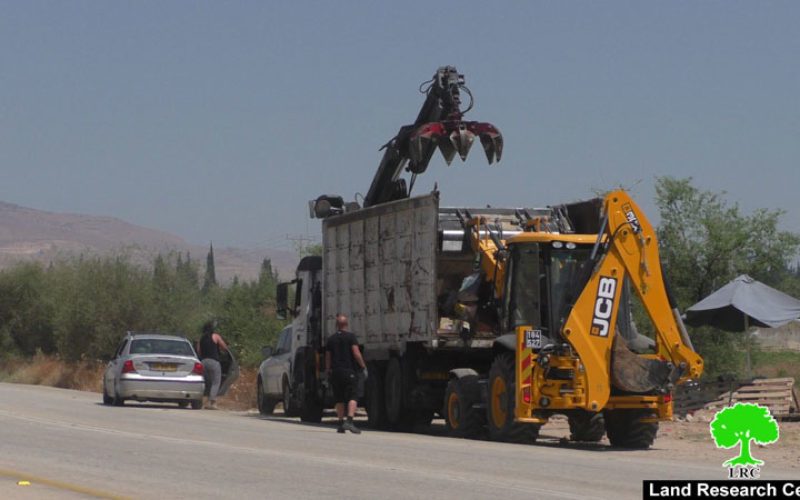 Violation: demolishing vegetable stalls.
Location: the northern Jordan Valley.
Date of violation: 01/06/2020.
Perpetrators: the Israeli occupation army.
Affected party: 4 families from the villages of Bardala and Ain Al-Bayda.
Details of the violation:
The Israeli Occupation Army, accompanied by the Israeli " Civil" Administration personnel, began on Monday morning, corresponding to the first of June 2020, to carry out demolition campaigns  – for the second time in a row – against  vegetable stalls along road No. 90 in the villages of Bardala, Ain Al-Baida and Kardala in The northern Jordan Valley. During the latest campign  four veg stalls were completely destroyed  to sell vegetables that were completely and their contents confiscated  in an Israeli truck.
Photos 1-4: The demolition and confiscation of vegetable stalls in the northern Jordan Valley
Destroyed stalls  by owner name, No. of family members and type of stall:
| | | | | |
| --- | --- | --- | --- | --- |
| Owner name | # fam. members | # Children | Type of stall | Notes |
| Saleh Ali Ahmed Sawafta | 6 | 4 | A veg stall made of canvas fabric |   |
| Iyad Abdel Mahmoud Al-Asaq | 4 | 1 |  A veg stall made of wood | Destroyed for the second time |
| Jawad Aref Suleiman Sawafta | 6 | 3 | A veg stall made of wood | Destroyed for the second time |
| Faris Saeed Ahmed Fiqh | 5 | 3 | A veg stall made of wood |   |
|   | 21 | 11 |   |   |
In an interview with the center's field researcher, the head of the village council in Bardala, Mr. Muhammad Sawafta, stated the following:
"There are daily harassment and facts that the occupation wants to impose on us, represented in preventing us from using our right to benefit from the Jordan valley vital road  No. 90 that passes through our villages and towns, as well as undermining our right to take benefit of our land and natural resources by, even, reducing our water quota, which led to great losses in our agricultural produce. And now, in light of the difficult circumstances that we are facing due to the Corona epidemic, the occupation prevents farmers from marketing their agricultural products on this vital raod that cuts the country from the south to the north by preventing the erection of vegetable stands, and this time more than 65 boxes of vegetables have been confiscated".
According to the field follow-up by the Land Research Center's researcher , The occupation has performed many attacks on vegetable stalls along this road without any prior warning and the contents of these stalls have been confiscated as a means to obstruct any development projects in those areas and prevent competency with Israeli agricultural  produce.