Demolishing a building and notifying another in At-Tirah village / Ramallah governorate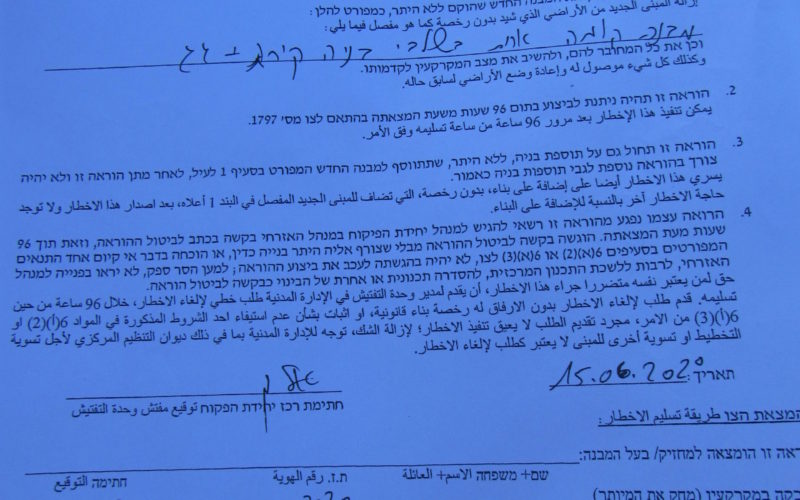 Violation: Demolishing a building and serving several notices.
Location: At-Tirah village / Northwest Ramallah.
Date: June 24th 2020.
Perpetrator: The building and organization committee – The Israeli Occupation Civil Administration.
Victims: Citizen Nadeer Salama and Mohammed Salama.
Description:
Wednesday June 24th 2020, the Israeli occupation authorities demolished an under construction house with a total area of 145 m2 in At-Tirah west Ramallah , on the pretext of building without licenses.
The targeted house belongs to citizen Nadeer Salama (31) , who supports a family of 6 , 4 of them are children , and it is located on the eastern entrance of At-Tirah , which overviews "Beit Horon" illegal settlement, the targeted house was notified in June 15th , the notices was numbered (10146) and entitled "removal of a new building", the occupation gave the owner only 96 hours to object .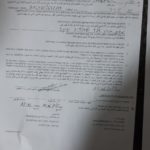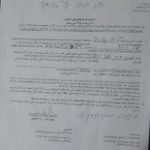 Photos 1-2: A notice that targets Nadeer Salama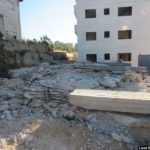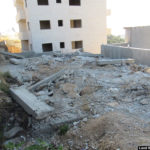 Photos 3-4: the remains of Nadeer Salama's house after the demolition
In the same day , the occupation forces notified a neighboring house that belongs to citizen Mohammed Salama (29) .
Reportedly, the targeted house has a total area of 165 m2 and consists of one floor , Mohammed Salama supports a family of 3 (1 of them is a child).
Mohammed Salama told LRC :
"Early this year  my brother and I built two houses for our families , and we were shocked by the occupation's military notices, we harried on preparing a legal file and apply it to the relevant bodies , but that did not stop the occupation from demolishing my brother's house , as a person who goes through a financial crisis right now, he won't be able to provide a new home for his family."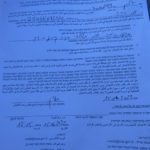 Photo 5: A notice that targets a house that belongs to Mohammed Salama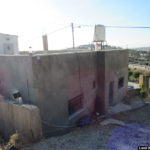 Photo 6 : The targeted house 
About At- Tirah village: [1]
12 km south west Ramallah , At-Tirah is surrounded by Beit 'Ur Al-Fouqa (north), Kharabtha Al-Misbah and Beit Liqya (West) , Beituniya and (Beit Horon settlement) east , Bait Deqqu and Beit Anan "Har Alei Zahav) settlement (south).
At-Tirah has a population of 1504 people, until 2017 census.
At-Tira has a total area of 3,971 dunums, of which 353 dunums are a built up area.
The occupation devoured (307) dunums for the following purposes:
"Beit Horon" settlement devoured 75 dunums , it was established in 1977 , and inhabited by 1403 settlers until the end of 2018.
Bypass 443 ate up (200 dunums).
The segregation wall (318 m) , ate up (32 dunums) , and isolated 13 dunums. The Wall's original plan will eat up (151) dunums, isolate (164) dunums , and will be (1511) meters long.
Oslo accords divided the land as the following :
B area: (440) dunums.
C area: (3,531) dunums.
International Conventions and agreements pertaining to house and residents demolition:
Article 147 of Geneva fourth convention  : extensive destruction and appropriation of property, not justified by military necessity and carried out unlawfully and wantonly. ( it is considered a serious violation of the convention)
Article 53 of Geneva fourth convention that forbids destroying properties : Any destruction by the Occupying Power of real or personal property belonging individually or collectively to private persons, or to the State, or to other public authorities, or to social or co-operative organizations, is prohibited, except where such destruction is rendered absolutely necessary by military operations.
Article 33 of Geneva fourth convention: No protected person may be punished for an offence he or she has not personally committed.
[1] GIS-LRC