Notices target agricultural and residential structures in At-Tirah village / Ramallah governorate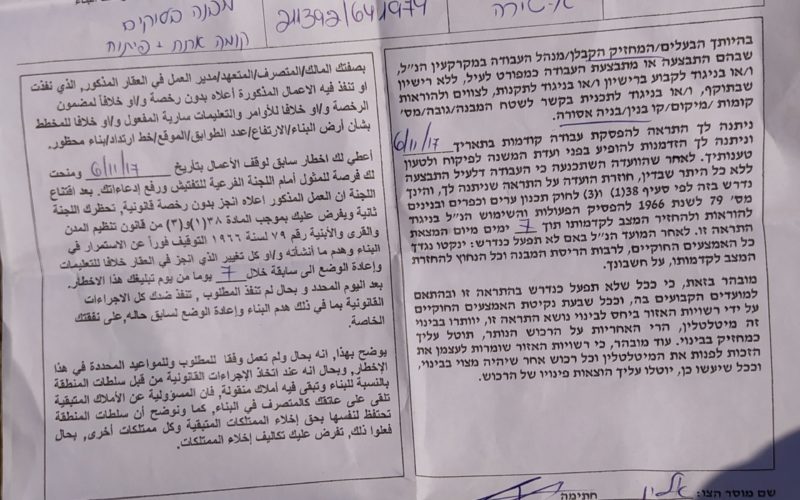 Violation: final halt of work and demolition notices.
Location: At-Tirah / Ramallah governorate.
Date: May 20th 2020.
Perpetrator: The Israeli Occupation Civil Administration.
Victims: 5 families (about 38 people).
Description:
Wednesday , May 20th 2020 , the Israeli Occupation forces accompanied by the building and organization officer in the Civil Administration raided At-Tirah village northwest Ramallah , and gave number of citizens halt of work and demolition orders with only 7 days to object , the occupation claims that the targeted structures were built in C area without licenses.
The targeted facilities are built close to the village built up area, which is only 85 dunums and does not fulfill the population's natural growth needs.
The following table shows more information about the targeted facilities:
Affected citizen

Family members

New Military orders number

Date of previous halt of work notice

The targeted facility

Photo no

Samir Salama

8

November 6th 2017

Under construction house 140 m2

Abdul Karim Mohammed

5

November 6th 2017

Agricultural room built of bricks with  a total area of 16 m2

'Ali Gharaba

8

505482

November 6th 2017

Agricultural barracks built of zinc and bricks with a total area of 90 m2

November 6th 2017

Under construction house consisting of one floor and a basement with a total area of 190 m2

Shareef Ramadan

9

N/A

November 6th 2017

Inhabited house – 1 floor (180 m2)

'Ali Theeb

8

N/A

November 6th 2017

A farmland with a total area of 5 dunums, and a Baton ceiling with a total area of 18 m2 , a store built of bricks (16 m2) , bathroom , an olive grove surrounded with a retaining wall

total

38

 

 

 

 

 
 
 
 
 
 
 
According to At-Tirah village council, about 13 agricultural and residential facilities in the village received halt of work notices on the pretext of building without licenses, while the occupation authorities are prohibiting the village council from expanding the built up area to meet the populations' needs.
About At- Tirah village:[1] 
12 km south west Ramallah , At-Tirah is surrounded by Beit 'Ur Al-Fouqa (north), Kharabtha Al-Misbah and Beit Liqya (West) , Beituniya and (Beit Horon settlement) east , Bait Deqqu and Beit Anan "Har Alei Zahav) settlement (south).
At-Tirah has a population of 1504 people, until 2017 census.
At-Tira has a total area of 3,971 dunums, of which 353 dunums are a built up area.
The occupation devoured (307) dunums for the following purposes:
"Beit Horon" settlement devoured 75 dunums , it was established in 1977 , and inhabited by 1403 settlers until the end of 2018.
Bypass 443 ate up (200 dunums).
The segregation wall (318 m) , ate up (32 dunums) , and isolated 13 dunums. The Wall's original plan will eat up (151) dunums, isolate (164) dunums , and will be (1511) meters long.
Oslo accords divided the land as the following :
B area: (440) dunums.
C area: (3,531) dunums.
[1] GIS-LRC