Innab colonists set fire to 400 dunums of olive groves in Ramin village / Tulkarm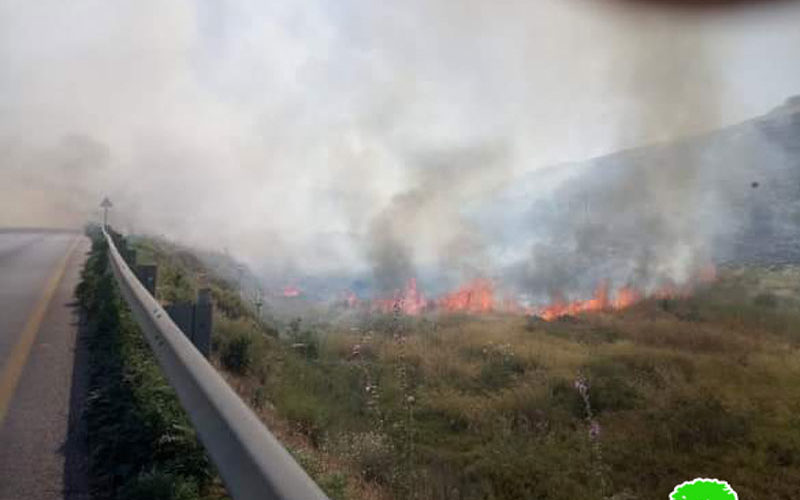 Violation: Setting fire to olive groves.
Location: Ramin village / Tulkarm governorate.
Date: May 21st 2020.
Perpetrators: Innab colonists.
Description:
Thursday , May 21st 2020 , A group of colonists from Innab colony set fire to 400 dunums of olive groves in Ramin village south Tulkarm at "Hariqat Ibrahim" and "Al-Gharbeyat" locations. Reportedly, as a result of the hot weather, the fire expanded rapidly eating up about 1200 olive trees.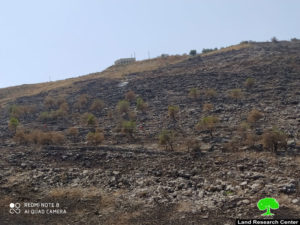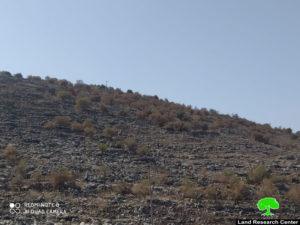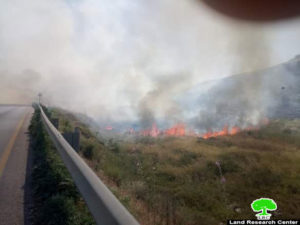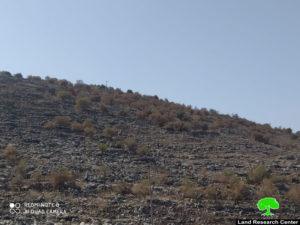 Photos 1-4: following an arson attack in Ramin
One of the farmers Imad As-Salman told LRC the following:
"My brothers and I own 38 dunums of olive groves , that provide a source of income for us , the Occupation authorities built Innab colony on confiscated lands nearby the olive grove , and now under "security claims" we are only allowed to access our lands after prior permission from the occupation , which they give only twice a year , one of them is during ploughing season , and the other during harvesting season, and even when we get licenses the occupation imposes difficulties because they are hoping to take over the land for the illegal colony Innab future expansion".
As-Salman asserted:
"Thursday, 1:00 pm, a group of fanatic colonists set fire to the olive grove , the fire quickly expanded eating up 400 dunums in Al-Gharbiyat and Hariqat Ibrahim , people of the village and Palestinian civil defense rushed to the location to stop the fire , but due to the occupation's obstacles and the rough road , they managed to stop the fire at 6:00pm."
 The burnt 400 dunums belong to: Sami Salman, Sabri Salman, Subhi Salman, Sadiq Bsaisi, Naser Zidan , 'Awad Hamd , Mes'ab Dhafer.
Haneen Fraij from Tulkarm agricultural directorate told LRC:
"This is not the first arson attack to be reported, few years ago fanatic colonists set fire to the same location , a while later the area's farmers in coordination with the ministry of agriculture planted olive saplings to grow the olive grove again , but that did not happen as only three years later an arson attack was also carried out at the location."
Fraij pointed out that The Occupation is planning to expand Innab colony on the olive groves after confiscating them from their owners.
Ramin village – an overview:[1]
Ramin village is 11.5 km to the southeast of Tulkarm city , to the west of Ramin , Innab colony is built on confiscated lands since 1981 , the illegal colony is eating about 700 dunums of the village lands , and to the east of Ramin there are Burqa and Al-Maso'udiya villages , to the south it is bordered by bypass 557 and Beit Leed and Safareen villages , to the north there are 'Anabta and Kafr Al-Labed villages.
Ramin village has a total area of 8934 dunums , inhabited by 1998 people according to the Palestinian Central Bureau of Statistics for 2017.
[1] GIS – LRC