Halt of construction notice target tens of cisterns and agricultural facilities in Az-Zawiya / Salfit governorate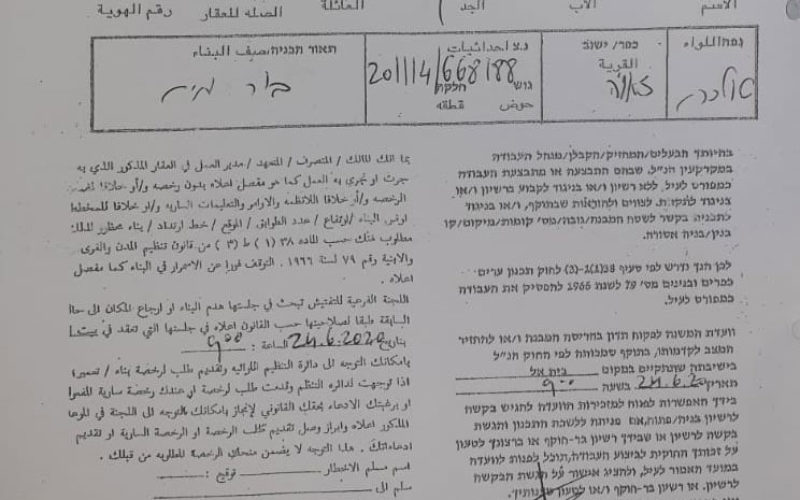 Violation: halt of work order on cisterns and agricultural facilities.
Location: Az-Zawiya / west Salfit.
Date: May 25th 2020.
Perpetrators: The Israeli Occupation civil Administration.
Victims: 9 Palestinian families.
Description:
Monday afternoon, May 25th 2020, The Israeli Occupation Forces accompanied by the building and organization officer raided Az-Zawiya west Salfit , and served 10 halt of work and construction orders on water harvesting cisterns that together provide water for 86 agricultural dunums, and notified other agricultural facilities on the pretext of building without licenses in C area.
According to the notices , the occupation set June 24th as the date of the subcommittee session in Beit El military court to decide the fate of the structures.
The targeted cisterns were implemented by PARC (Agricultural Development Association) in 2017 with the support of Arab Fund for Economic and Social Development, to support people who live in this area under very difficult circumstances after the construction of the apartheid wall and opening bypass roads.
During 2020 so far, the occupation forces demolished two water harvesting cisterns , read our reports (Arabic , English) , and notified more than 16 cisterns , they also targeted two agricultural rooms with demolition in Sarsirya area on the pretext of building without licenses , read our report (Arabic , English).
The following table shows more information about the targeted facilities:
Affected citizen

Family members

Military order number

The targeted facilities

notes

Photos number

Adnan Misleh

2

Water harvesting cistern with a storage capacity of 35 m3

The cistern provides water for 10 dunums planted with olives

Nitham Shqair

6

Water harvesting cistern with a storage capacity of 35 m3

The cistern provides water for 15 dunums planted with olives

Jamal Misleh

5

Water harvesting cistern with a storage capacity of 27 m3

The cistern provides water for 10 dunums planted with olives

Haroun Moqadi

8

 

– Water harvesting cistern with a storage capacity of 35 m3.

– Water harvesting cistern with a storage capacity of 24 m3.

The cistern provides water for 27 dunums planted with olives

+

Raji Moqadi

7

– Water harvesting cistern with a storage capacity of 24 m3.

The Cistern provides water for 4 dunums planted with olives

Rebhi Abu Naba'a

9

-A canopy built of plastic and metal angles 12 m2.

-A mobile metal room (16 m2).

-A water harvesting cistern with an area of 35m2.

-Retaining wall with a total area of 300 m2.

The Cistern provides water for 8 dunums planted with olives, grapes and almonds.

Maher Qadous

6

-A room built of woods and fabric 16 m2.

-water harvesting cistern (35 m3)

The Cistern provides water for 4 dunums planted with olives

Shehadeh Shqair

8

Water harvesting cistern (24 m3)

The Cistern provides water for 4 dunums planted with olives

Munir Shamlawi

5

-water harvesting cistern (45 m3)

-A mobile room (16 m2)

The Cistern provides water for 4 dunums planted with olives

total

56

 

15

86 dunums

 
Source: firsthand field observation – GIS- LRC , May 2020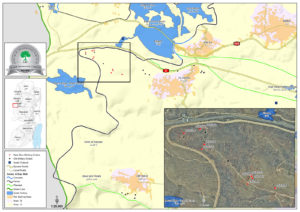 About Az Zawiya:[1]
 Located 17 kilometer west of Salfit and adjacent to the Green Line, Az Zawiya has a population of 5230 people according to statistics conducted in 2017. 81% of the population depend on agriculture and sheep grazing while the rest work in governmental jobs or private sector projects. Az Zawiya has a total area of 12,000 dunums, 693 of which are a built-up area of the town. Most agricultural lands in Az Zawiya are planted with olive, figs, and cactus.The Israeli occupation confiscated 1747 dunums of Az Zawiya lands for colonies and the Apartheid Wall as the following:
Two colonies are built on Az Zawiya lands. The first is Mazor Atiqa which was built in 1986 and confiscated 573 dunums. The other is Elkana which was built in 1977 and confiscated 57 dunums. Elkana is inhabited by 3050 colonists.
Bypass road number 5 and it devoured 520 dunums of Az Zawiya lands
The Apartheid Wall which destroyed 579 and isolated 4228 dunums
[1] GIS-LRC