Demolishing and confiscating a residence and a barn east At-Tayba village / Ramallah governorate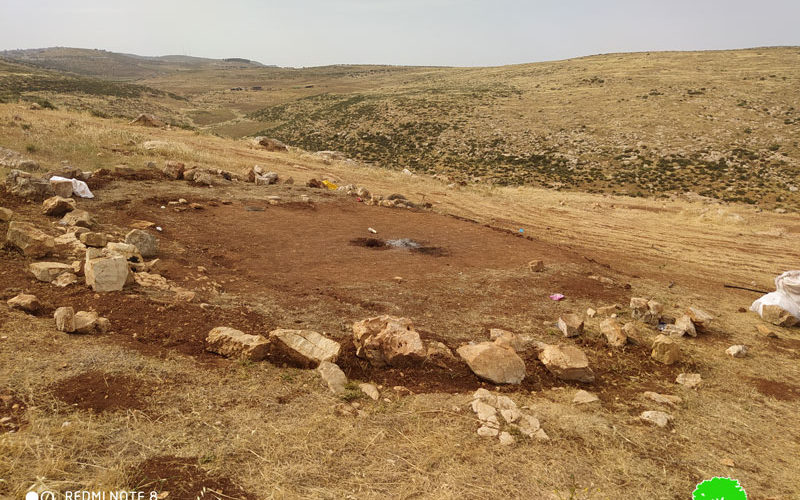 Violation: Demolishing and confiscating a residence and a barn.
Location: At-Tayba village / northeast Ramallah governorate.
Date: May 14th 2020.
Perpetrators: The Israeli Occupation Forces.
Victims: Families of 'Eid Ka'abneh , Ahmad Ka'abneh and Mohammed Eid Ka'abneh.
Description:
The Israeli Occupation Forces accompanied by a crane truck and a bulldozer raided At-Tayba village , and carried on dismantling and confiscating residential and agricultural facilities , on the pretext of building on a governmental property. The targeted area is to the east of At-Tayba roadblock in natural block 20 piece 145.  
Reportedly, the occupation forces left the following damages:
Residential tent with a total area of 10 m2 , built of a metal body and plastic sheets.
Agricultural tent (barn) with a total area of 96 m2 , supplied by the Colonization and Wall Resistance Commission.
Sheep tent built of a metal body and plastic sheets with a total area of 110 m2.
3 Solar cells, and an electricity generator supplied by OCHA.
One of the Victims, Eid Ahmad Al-Ka'abneh (72) years told LRC the following:
"I have been living in Tayba for years, and we depend mainly on cattle breeding for living, we own a herd of 300 livestock. The Israeli Occupation forces and settlers attack us on a daily basis , and recently the occupation forces arrested my sons (Ahmed , Mohammed ,Mahmoud) while they were herding , and fined us 8000 shekels. Thursday morning, the occupation forces dismantled and confiscated all our properties (residential tents , solar cells and others) , under claims that the plot on which we set up our tents,  is a governmental  property. at the time we are deprived from using our own land under claims of allocating them as governmental properties, Israeli settlers can freely set up new tents and take over lands."
An extremist religious group established a new outpost 200 m southeast "Rimonim" , since the establishment of the outpost , daily attacks against farmers and ranchers are reported.
About At-Tayba village (Ramallah):[1]
15 Km to the east of Ramallah , At-Tayba is surrounded by Deir Jarir village (North) , Silwad village (west) and Al-Mu'arijat (east), At-Tayba is blocked by Kukhav Hashaher and Rimunim illegal settlements from the south.
At-Tayba has a population o 1340 people according to 2017 census , while the village has a total area of 22,969 dunums of which 732 dunums are a built up area. The Israeli Occupation 1,738 dunums of At-Tayba lands for the following purposes:
Israeli settlements ate up 354 dunums:
| | | | |
| --- | --- | --- | --- |
| Settlement name | Establishment year | Area in dunums | Number of settlers |
| Ofra | 1975 | 25 | 3235 |
| Rimunim | 1977 | 329 | 745 |
Bypass roads 449 and 458 ate up (1,087) dunums.
Military camps devoured (297) dunums.
Oslo accords divided the town's lands as the following:
B area: 8,010.
C area: 14,959 dunums.
[1] GIS-LRC