Demolishing 6 vegetables selling stands in the Jordan Valley / Tubas governorate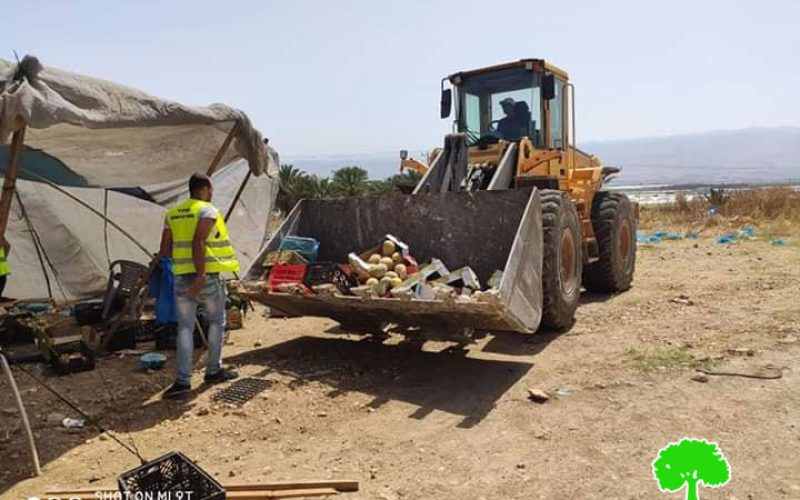 Violation: destroying selling stands.
Location: Kardala village / Tubas Governorate.
Date: May 27th 2020.
Perpetrators: The Israeli Occupation Forces.
Victims: 6 Palestinian families.
Description:
Wednesday, the Israeli occupation forces  raided Kardala village in the Jordan Valley , and destroyed 6 vegetables selling stands on the roadside of bypass 90.
The Occupation did not give the owners any previous notices , the attack suddenly happened and after destroying the stands the occupation forces took over the vegetables that were on the stands , which caused  a great financial loss for families of the owners.
The following table shows more information about the attack:
| | | | |
| --- | --- | --- | --- |
| Affected citizen | Family members | Children under 18 | The targeted stands |
| Riyad Sawafta | 2 | 0 | Vegetables selling stand |
| Sameer Khadirat | 7 | 5 | Vegetables selling stand |
| Iyad Al-'Awsaq | 4 | 1 | Vegetables selling stand |
| Jawad Sawafta | 6 | 3 | Vegetables selling stand |
| Firas Sawafta | 2 | 0 | Vegetables selling stand |
| Shadi Faqha | 5 | 3 | Vegetables selling stand |
| total | 26 | 12 |   |
Kardala village council head Ghassan Faqha told  LRC:
"During the recent few months the occupation started tightening the blockade on farmers, and imposed restrictions on operating agricultural machineries, which had a bleak effect on the agricultural sector, people of Kardala depend mainly on the agricultural which makes a key stone in the area's economy. In addition to all the Israeli violations of the rights to land , and the attacks on agricultural lands , the fanatic troops prohibit farmers from selling their products."
Reportedly: many attacks targeting vegetables selling stands were documented recently.
Photos 1-6: The targeted selling stand
Photos 7-12 : The confiscation notices (given to the victims after the attack)
Kardala village is a hot spot for Israeli violations as it is in areas classified C in Oslo Accords, the occupation targeted 13 residential and agricultural facilities in the village , these measurements aim to empty the area from its residents.
International Conventions and agreements pertaining to house and residents demolition:
Article 147 of Geneva fourth convention  : extensive destruction and appropriation of property, not justified by military necessity and carried out unlawfully and wantonly. ( it is considered a serious violation of the convention)
Article 53 of Geneva fourth convention that forbids destroying properties : Any destruction by the Occupying Power of real or personal property belonging individually or collectively to private persons, or to the State, or to other public authorities, or to social or co-operative organizations, is prohibited, except where such destruction is rendered absolutely necessary by military operations.
Article 33 of Geneva fourth convention: No protected person may be punished for an offence he or she has not personally committed.