Agricultural facilities in Masafer Yatta face demolition threats / South Hebron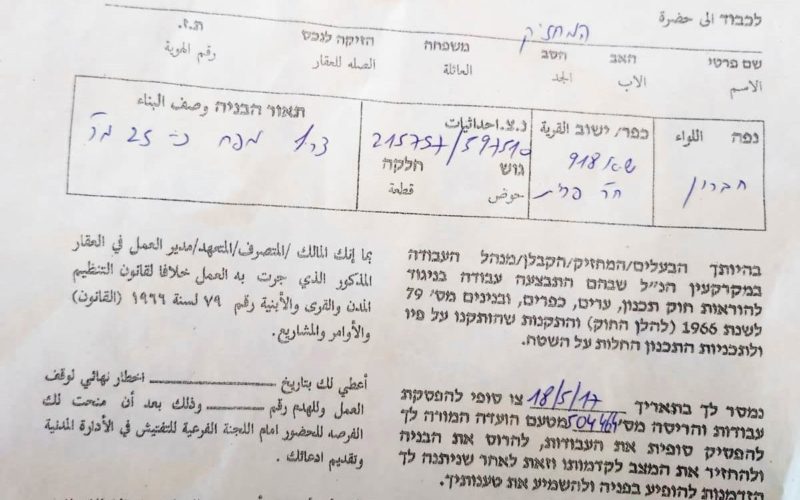 Violation: Demolition threats.
Date: May 27th 2020.
Location: Al- Fakheets and Maghayir Al-'Abeed – Masafer Yatta / Hebron governorate.
Perpetrators: The Israeli Occupation Civil Administration.
Victims: Citizen Jameel Al-'Amour and Masafer Yatta village council.
Description:
The Israeli Occupation Authorities extended the objection period on a demolition order that targets an agricultural facility , and gave the owner 3 days to object.
In the early morning hours of Wednesday May 27th 2020, a vehicle related to the building and organization department – the Civil Administration raided the area and got to Jameel Al-'Amour's agricultural facility , and the occupation's inspection officer put a notice on the facility , then took pictures of it before withdrawing.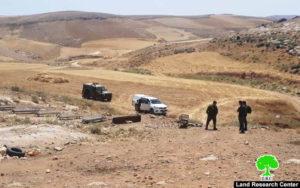 Photo 1: The occupation authorities raiding Al-Fakheet
Photo 2: The notice against citizen Jameel Al-'Amour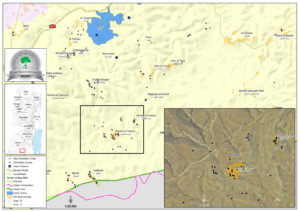 The notice was entitled "extending the objection period for Demolition Notice number 504464" , and claimed that in 2017 they issued a demolition notice , and no one objected against it , so they gave the owner an extension for 3 days.
In reality, Masafer Yatta village council head told LRC: " One of the village's farmers " Al-'Amour" built an agricultural facility , and in 2017 , the occupation authorities issued a demolition notice against the facility, the owner prepared a legal file and gave it to relevant bodies , but the occupation demolished the barracks in 2018."
Early 2020 , Al-'Amour built a tent and a barn at the location , and the occupation gave the owner (an extension notice on the demolition).
The tent and the barn have a total area of 200 m2 together, and used to contain 120 cattle heads.
In the same context, the occupation authorities orally notified Masafer Yatta village council to remove a tent the emergencies' committee had set up to test those who have symptoms of the Corona virus.
The inspection officer told those who were in the tent that they should remove it before May 31st 2020.
About Al-Fakhit:[1]
Al-Fakhit village is relative to Masafer Yatta area and populates about 80 people who live off of agriculture and animal husbandry. The village is edged by Al-Majaz village from the east, Al-Tawamin and Shu'ub Al-Butm from the west, Al-Tabban from the north and Al-Halawah and the apartheid wall from the south.
The village has a total built-up area of 7 dunums only, where most structures are notified of stop-work and demolition by the Israeli Occupation Authorities.
[1] GIS-LRC