Halt of work notices on Solar cells and agricultural and residential tents in Ad-Deer / Tubas governorate
Violation: Halt of work notices.
Location: Khirbet Ad-Deer / nearby the Palestinian Jordanian borders.
Date: March 22nd 2020.
Perpetrators: The Israeli Occupation Civil Administration.
Victims: Number of farmers from the village.
Description:
The Israeli Occupation forces accompanied by the building and organization officer in the civil administration raided Ad-Deer hamlet to the east of Ein Al-Bayda in the northern Jordan Valley, and gave Citizen Abdulraheem Sawafta a halt of work military notice on tents he uses as residence and barn, the notice was issued on the pretext of building without licenses. Abdulraheem have been living in the area for more than 15 years, and have already faced forced transfer many times under the same claims.
In the same context , the occupation put a halt of work military notice on a solar cells station , that contain about 45 cells , the station belongs to "Dalia" company for agricultural investment which is owned by Mohyammed Sawafta , noteworthy the solar cells project was funded by the GVC Italian cooperation , and were planted early this year.
The targeted cells  are used in generating electricity for water pumps , which helps in providing water for 70 dunums of greenhouses and rainfed farms. According to the notice, the occupation set May 4th as the date of the building and organization session to decide the fate of the structure. The following table shows information about the targeted structures:
Affected citizen

Family members

Area m2

The targeted facilities

Notice number

Photo number

Abdulrahman Sawafta

9

75

60

75

45

-Residential tent

-Tent used as a barn

-Tent used as a barn

-Tent used as a store for seeds

 

 

Dalia company for agricultural investment

 

 

 

30172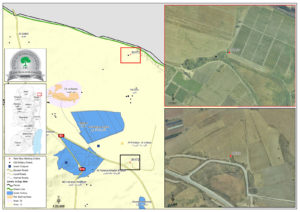 Ad-Deer lands are registered in Tapu , and the owners hold ownership deeds that prove their possession of the lands, but the occupation is still insisting to forcedly transfer people of the area. Residents of Ad-Deer are originally from Tamoun and Tubas , and live basic lives in tents and barns , and they depend mainly on cattle breeding for living.