Demolishing agricultural facilities in Deir Ballut / Salfit governorate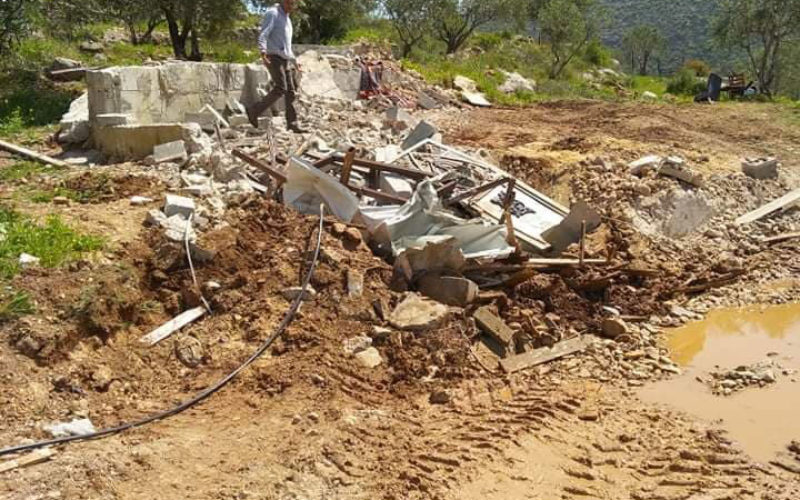 Violation: Demolishing agricultural facilities.
Location: Deir Ballut / west Salfit.
Date: March 26th 2020.
Perpetrators: The Israeli Occupation Forces.
Victims: Farmer 'Aziz Abdullah.
Description:
 Thursday afternoon , March 26th 2020 , the Israeli Occupation forces accompanied by a military bulldozer raided "Wadi Sarida" south Deir Ballut , and carried on demolishing an agricultural room built of bricks and zinc (16 m2) , and a water harvesting cistern with a storage capacity of 60 m3, the targeted facilities belong to farmer 'Aziz 'Abdullah (62)  from Deir Ballut.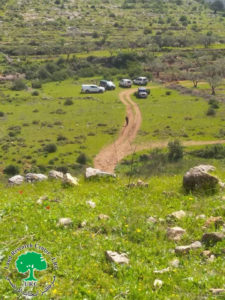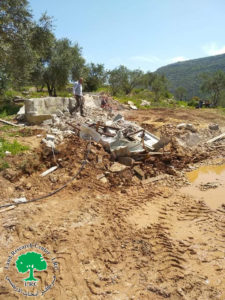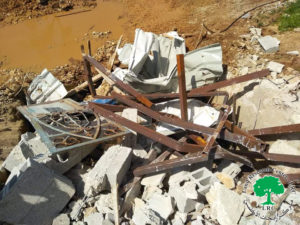 Photos 1-3: pictures of the destruction carried out by the occupation's bulldozers
The Israeli Occupation civil administration gave 'Aziz a military notice entitled "removal of a new building", and set seven days to object on the demolition order   , the victim contacted with the legal aid unit  in Salfit governorate to help him save the property , but the occupation refused the objection and leveled the structure to the ground.
In reality, the Israeli occupation never accepts objections on this type of military orders , Two years have passed Since it started issuing short notice military orders  in C area that target newly constructed buildings , these Israeli measurements aim to impose realities on the ground, and halt Palestinian construction in C area.
'Aziz told LRC :
"I own a 12 dunums plot in Wad Suraida , 2 km from the town's houses , last September , I carried on rehabilitating the plot and opened a water harvesting cistern with a storage capacity of 60 m3, and an agricultural room with an area of 9 m2 established by the ministry of agriculture and funded by the FAO . In march, the Israeli civil administration issued a notice that targets both the cistern and the room , and in 26 of the same month they showed up and destroyed the facilities."
Deir Ballut needs expansion for the built up area , which forced several families to build in C area , and made them exposed to the occupation's demolition measurements , between 2000 and the day of writing this report , the occupation notified 50 residential, agricultural and even industrial facilities in the village.
About Deir Ballut: [1]
24 km west Salfit, Deir Ballut is surrounded by Rafat village (north), The green line – occupied territories of 1948 (west), Kafr Ad-Deek village (east), Al-Lubban Al-Gharbi village (south).
 Deir Ballut is populated 3,870 people in 2017 census. The town's people are from several families, namely: Tufaha, Khair, Abdullah, Qassim, Qaroush, Mesha'l, Mustafa, Musa and Hadrous.
Deir Ballut has a total area of 11,339 dunums , of which 503 dunums are a built up area.
Deir Ballut is popular with rain-fed agriculture such as (Armenian cucumber, Ladies fingers, garlic and others), in addition to olives and wheat.
Deir Ballut contains a water spring in Wadi Al-Ein area, and the town's people depend on the National Israeli water company,  in addition to rain water harvest cisterns for daily use water.
The Israeli occupation devoured 436 dunums for the following purposes:
"Har Alei Zahav" illegal settlement was established in 1983 on 190 dunums of confiscated lands, it is populated 3119 settlers (The Israeli ministry of interior – 3 January 2019).
Bypass 446 devoured 127 dunums.
The segregation wall is 1,189 m long, it ate up 119 dunums and blocked 895 dunums. In case the plan of the segregation wall was completed , it will become 6,695 m lone, and eat up another 670 dunums , in addition to blocking 2,613 dunums.
Oslo accords divided Deir Ballut as the following:
B area: 689 dunums.
C area: 10,710 dunums.
Demolishing Palestinian structures and facilities is a violation of international law:
Article 147 of Geneva fourth convention  : extensive destruction and appropriation of property, not justified by military necessity and carried out unlawfully and wantonly. ( it is considered a serious violation of the convention)
Article 53 of Geneva fourth convention that forbids destroying properties : Any destruction by the Occupying Power of real or personal property belonging individually or collectively to private persons, or to the State, or to other public authorities, or to social or co-operative organizations, is prohibited, except where such destruction is rendered absolutely necessary by military operations.
Article 33 of Geneva fourth convention: No protected person may be punished for an offence he or she has not personally committed.
Article 32 of Hague convention 1907 part g: To destroy or seize the enemy's property, unless such destruction or seizure be imperatively demanded by the necessities of war.
Article 17 of Universal declaration of human rights 10 –Dec- 1948:  No one shall be arbitrarily deprived of his property.
[1] GIS-LRC