Colonists carry out a Number of Attacks against Yatta citizens- Hebron governorate
The attacks were represented in cutting olive trees, attacking herders, releasing their aggressive dogs on citizens, and carrying out a number of attacks on citizens' property.
The attacks were as follow:
On Mach 23rd 2020, a colonists from the illegal colony of Susiya herded his sheep in a plot that belong to Azzam Al-Nawajaa south Susiya village, causing damage to his  winter crops;
On March 25th 2020, 3 olive trees were cut by settlers from Susiya colony established  on Palestinian confiscated land
On March 27th 2020, a number of settlers attacked herders from the village of At-Tuwani, east Yatta, while they were herding in the "Hamra" area near "Havat Ma'on" colony. Colonists threw stones at the herders and chased the herds out from the pasture area.
On March 28th 2020, colonists once again attacked herders at the "Hamra" area. This attack was filmed and documented by Activists against Colonialism. During the attack the settlers used an aggressive dog to chase herders out of the area. Herder Hussein Saber Al-Harini (32 years) was bitten in his hand and taken to hospital by a Red Crescent ambulance for treatment.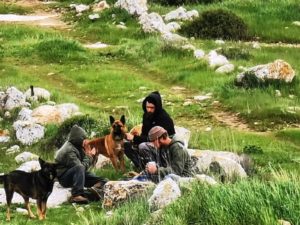 Photo 4
On the same date, a group of Colonists interrupted the way of two Palestinian children from the village of Tuba (Havat Ma'on illegal colony was built on confiscated lands to the west of Tuba), on their way to the village of Al-Tuwani. Colonists threw stones on children and terrorized them , children ran away screaming , Palestinians from At-Tawani village risked their lives to help them , and took the kids to Juma'a Rube'i house east the village, the occupation forces also threw tear gas on Rube'i's house.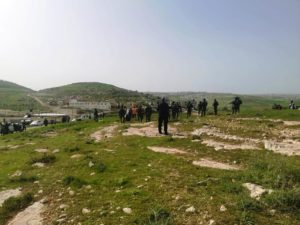 Photo 5
On March 29th 2020, colonists attacked two cisterns belong to citizen Barakat Murr in the "Tawamin" area, south Yatta, and destroyed cisterns' iron covers , and destroyed the cement fountains on the top of the cisterns used for drinking.