On the pretext that it is a natural reserve.. The occupation notifies a plot in Kufur Thulth / Qalqilya governorate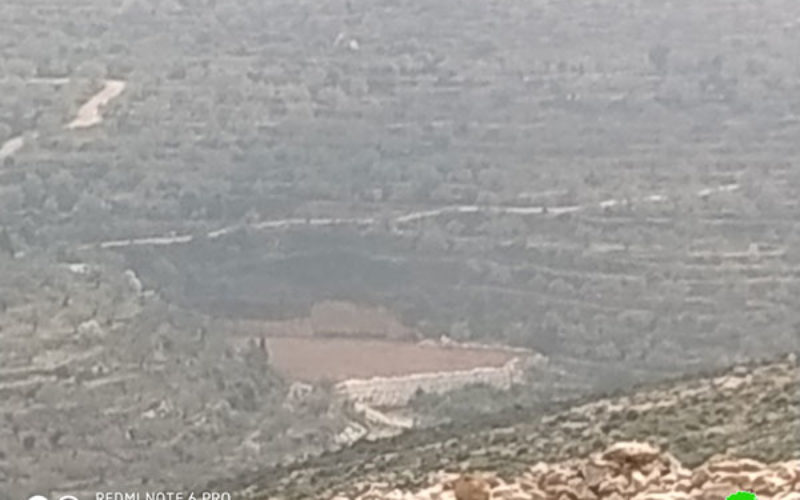 Violation: an eviction notice targets a plot.
Location: Kufur Thulth town / Qalqilya governorate.
Date: February 4th 2020.
Perpetrators: Nature Protection Department / the Israeli Occupation Civil Administration.
Victims: Farmer Jamal 'Issa.
Description:
The Israeli Occupation's Nature protection officer accompanied by forces raided Kufur Thulth and gave farmer Jamal Issa (63) a halt of work notice, on the pretext of using a natural reserve.
Noteworthy, Jamal is a retired teacher and he carried on rehabilitating his plot in November 2019. Reportedly, the plot is located 3 km away from the town's houses and has a total area of 35 dunums. Early February, Jamal set up a siege to protect the plot. But it didn't last long, Thursday afternoon, February 4th, a group of troops accompanied by an officer from Protection of Nature department gave him the notice then forced him to leave.
According to notice number (00384), the owner has to undo all the changes he made to the plot before 25th February.
Jamal told LRC:
"I have legal documents prove that I inherited the plot from my father, I support a family of 10, during the last few years the plot provided a subside source of income for us, recently I set up a siege around it to protect it, especially that "Novim" settlement is only 800 m away from the plot, and the settlement is expanding rapidly devouring more and more lands of the breath taking area of Wad Qana.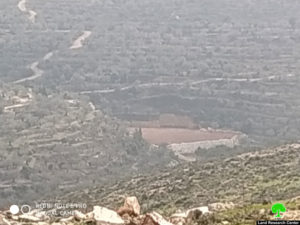 The targeted plot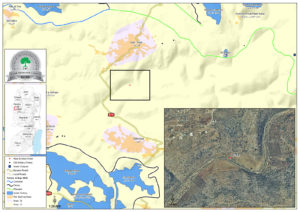 In reality it is not about protecting the environment, it is about keeping the Palestinian lands especially C area a colonial reserve for future colonial schemes and expansion projects. Israelis claim that they protect the Palestinian land while they change its allocations and give it to colonists to implement their schemes.
Israel prohibits Palestinian farmers from cultivating their lands under the claims of protecting nature, while what they do of ravaging , uprooting and opening colonial roads is not harmful to nature , not to mention that they polluted vast areas of Palestinian lands with settlements' sewage water.