Halting the construction of a house in Al-Mafqara village / East Yatta – Hebron governorate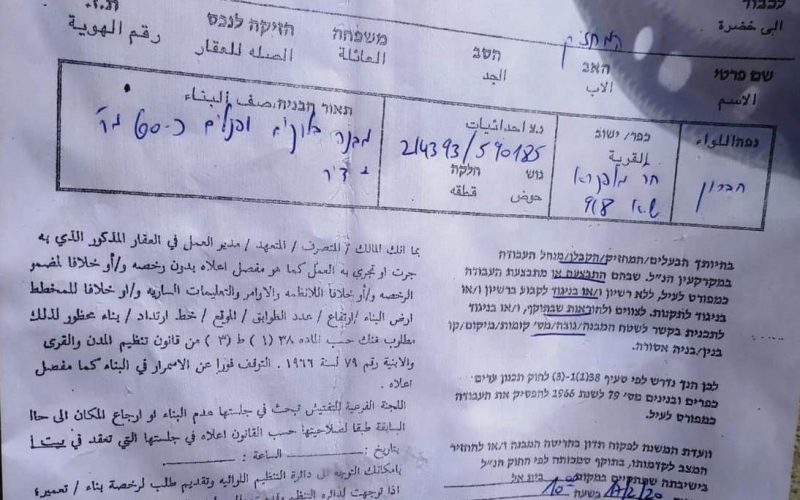 Violation : Halt of work order on a house.
Date: 27th January 2020.
Location: Al-Mafqara – Masafer Yatta / Hebron governorate.
Perpetrator: The Israeli occupation civil administration.
Victims: Family of Yassir Hamamda.
Description:
Monday, January 27th 2020 , the Israeli occupation authorities issued a halt of work order on a house that belongs to Yassir Hamamda , on the pretext of building without licenses in Al-Mafqara – South Yatta.
An eyewitness said that a vehicle related to the building and organization department in the civil administration, accompanied by an army patrol raided the area and went to Hamamda's family home , where the inspection officer in the civil administration , wrote the notice and hanged it on the wall.
In the notice numbered (00089) the occupation authorities ordered the immediate stoppage of construction works , on the pretext of building without license , and set February 17 as the subcommittee session in Beit El military court at 10:00 am , where they will discuss demolishing the structure or returning it to its previous status.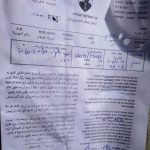 Photo 1: halt of work notice on a house that belongs to Hamamda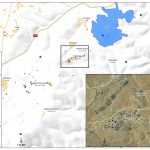 The occupation authorities issue halt of work notice as a preceding procedure before issuing a demolition order against the targeted structure, usually in their court sessions, they refuse the licensing application and demolish the structure.
Reportedly, the targeted house is built of bricks , with steel sheets ceiling , and has an area of 60 m2, it was used by a family of 12 , 4 of them are children, the house was built in April 2019.
Noteworthy, the occupation authorities target Al-Mafqara village with demolition operations , they also notified all of the town's houses and facilities , the occupation's intention to empty the town from its Palestinian inhabitants is obvious , through their policies of refusing licensing applications. In this case, the owner brought the ownership deeds he has for the plot, and filed them to the Israeli supreme court, they also made an outline and paid all the required fees, but the occupation authorities refused the application , and insisted on the demolition. It is also worth mentioning , that the occupation authorities want to take over as much as possible lands from Al-Mafqara , for the attention of expanding "Avigal" illegal settlement.
About Al-Mafqara hamlet:[1]
It is a primitive community located 17km to the far east of Yatta town. It has a population of 73 people divided on 22 main families that are relative to the clan of Hamamdih Al-Yattawyeih. The hamlet is run by a joint village council.
The hamlet's boundaries:
Khafat Ma'on colony to the north
Afi Gal colony and bypass road no.60 to the west
Yacoub Dalia colony to the south
Ma'on colony to the east
[1] Source: LRC
Prepared by