Expanding a military roadblock on the southern entrance of Deir Nitham / Ramallah governorate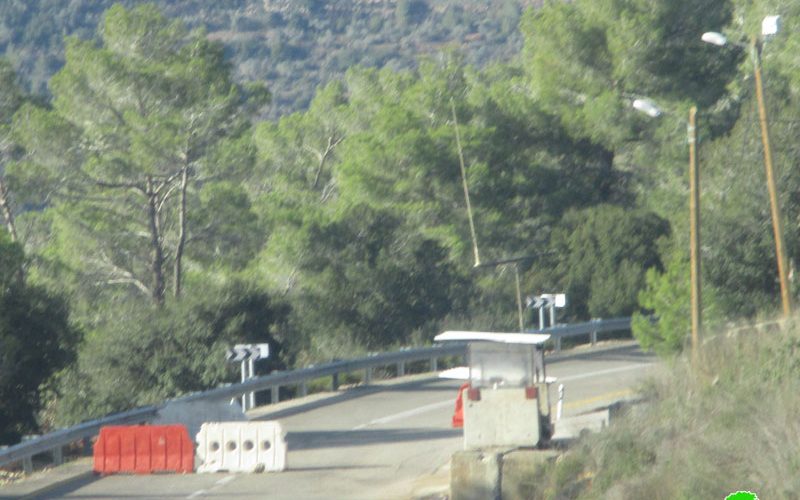 Violation: Expanding a military roadblock.
Location: Deir Nitham /North Ramallah city.
Date: January 07th 2020.
Perpetrator: The Israeli Occupation Army.
Victims: People of Deir Nitham.
Description:
Early 2020, the Israeli Occupation forces were seen expanding and developing the roadblock south Deir Nitham village.
Reportedly, the Israeli occupation set up a military watchtower and expanded the road block at the location.
Deir Nitham village council head Ahmad Tamimi told LRC:
"The Israeli occupation forces set up road blocks on all of the town's entrances; they impose closures and harass passersby. The new additions on the roadblock reflects the continuality of their policies that restrict the movement of the town's people and deprive them of one of their basic rights ; the right of the freedom of movement."
In the recent two years, the Israeli Occupation set up a metal gate on the northern entrance of the village, and sealed off an agricultural road north the village, In addition to daily harassments on vital roads.
About Deir Nitham village: [1]
25 kilometers north west Ramallah, Deir Nitham village is surrounded by An-Nabi Salih and Bni Zeid Al-Gharbeyeh towns (north) , 'Abud (west) , Kobar and  Umm Safa (east) and Beitillu (south). It has a population of 876 people in 2017 census.
Deir Nitham has an area of 2,758 dunums , 161 of them are a built up area of the town, the Israeli illegal occupation confiscated parts of the towns' lands for the following purposes:
"Hallamish" illegal settlement confiscated more than 604 dunums, est5ableshed in 1977.
Bypass roads (450 and 465) confiscated over 250 dunums.
The land is divided according to Oslo convention to B and C areas:
Area B : 128 dunums.
Area C : 2,630 dunu
International conventions and agreements related to freedom of movement:
Article 3 of the Universal Declaration provides that "everyone has the right to life, liberty and security of person."  
Article 5: No one shall be subjected to torture or to cruel, inhuman or degrading treatment or punishment.
Article 9

 that "no one shall be subjected to arbitrary arrest, detention or exile"
Article 13: Right to freedom of movement
Everyone has the right to freedom of movement and residence within the borders of each State.
Everyone has the right to leave any country, including his own, and to return to his country.
[1] GIS-LRC
Prepared by