The Israeli occupation forces demolish water pools and retaining walls in Al-Lubban Al-Gharbi / Ramallah governorate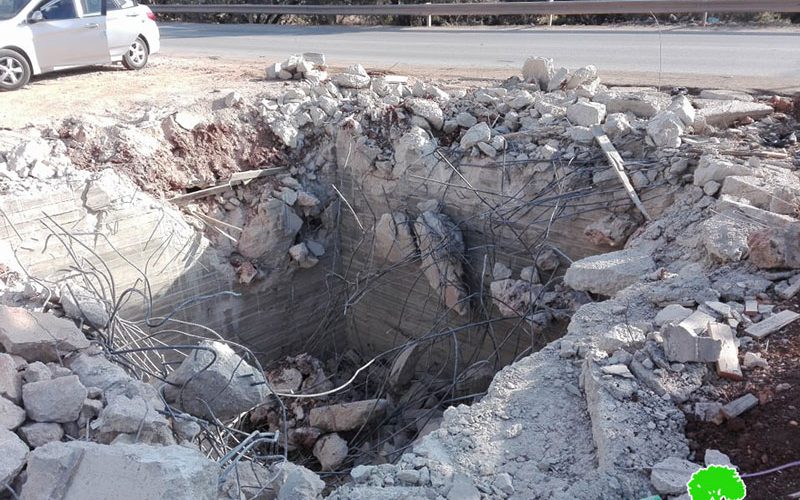 Violation: Demolishing retaining walls and a water pool.
Location: Al-Lubban Al-Gharbi / Ramallah governorate.
Date: 06/10/2019.
Perpetrators: The Israeli occupation forces.
Victims: Yousif Abu Salim.
Description :
The Israeli occupation forces accompanied by bulldozers raided Al-Lubban Al-Gharbi village north Ramallah , heading towards a water pool with a capacity of 90 m3 built of concrete, and retaining walls 15*2 m, the targeted structures are in the farm that surrounds Yousif's house . Noteworthy, the house is close to bypass 465.
Yousif Abu Salim told LRC reporter: "The so called building control unit in the civil administration served a notice to remove facilities on the pretext of building without licenses."
The notice served to Yousif numbered 10121 is entitled "A notice to remove a building" set a period of 96 hours to remove the new building , or the occupation forces will carry out the operation and make the owner pay the costs.
Yousif Abu Salim said that the construction of the retaining wall and the pool cost about 32,000 NIS , the pool was used to harvest rain water in light of the current water shortage, while the retaining walls were meant to protect the house.
Al-Lubban Al-Gharbi village:
30 km northwest Ramallah, Al-Lubban Al-Gharbi is surrounded by Deir Ballut (north) , Rantees and the greenline (west) , Aboud (east) and Bani Zaid (west) . Bayt Areh settlement is built on confiscated lands (east) , Aboud and Rantis (south) , it is also blocked by 'Ofarim settlement (south).
Al-Lubban Al-Gharbi has a total population of (1566) people in 2017 census.
The village has a total area of 10,779 dunums , of which 280 dudums are a built up area for Al-Lubban Al-Gharbi.
The occupation confiscated (2369) dunums for the following:
Israeli settlements devoured about (1126) dunums as the following:
| | | | |
| --- | --- | --- | --- |
| Settlement | Establishment year | Area in dunums | Number of settlers for 2018 |
| Beyt Areh | 1981 | 841 | 5,353 |
| 'Ofarim | 1988 | 285 | NA |
Bypasses 445 and 446 devoured 602 dunums.
The apartheid wall:
The existing apartheid walls 6,407 m , it ate up 641 dunums.
The under construction apartheid wall is (4,801) m, it will eat up 480 dunums.
In case the construction was completed , the wall will isolate (2,914) dunums.
According to Oslao accords the village lands are divided as the following:
B area : 305 dunums.
C area: 10,474 dunums.
Prepared by